Pricing for some of Verizon's upcoming smartphones is leaked
18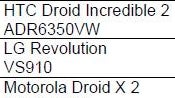 With the HTC ThunderBolt being out for a few weeks now, it seems that it will be getting some company soon from the Samsung Droid Charge, HTC Droid Incredible 2, LG Revolution, and Motorola DROID X 2.
The
Samsung Droid Charge
(SCH-i510) is the official name of the "un-named Samsung 4G smartphone" we
first saw at CES
earlier this year. The device is expected to carry a minimum advertised
price of $299.99
(making it $50 more than the HTC ThunderBolt), and will feature a 4.3" Super AMOLED Plus display, 1GHz Hummingbird single-core processor, an 8MP autofocus rear camera with 1080p video recording and a 1.3MP front camera for video chat, HDMI output, Wi-Fi 802.11b/g/n, Bluetooth v3.0, 828MB of internal storage, 1600mAh battery, and microSDHC memory card slot. The Samsung Droid Charge will run Android 2.2 Froyo and have a new version of Samsung's TouchWiz interface.
The
HTC Droid Incredible 2
(ADR6350) is a going to be a world phone with CDMA & GSM global roaming capabilities, but will lack 4G LTE. Pricing is shown at
$199.99
and the phone will come with Android 2.2 Froyo, 1GHz Snapdragon processor, 4" WVGA TFT display, an 8MP rear camera and a 1.3MP front camera, 720p video recording, DLNA connectivity, and will come with a 16GB microSDHC memory card pre-installed.
For
$249.99
you can get the
LG Revolution
(VS910), which will also be a 4G LTE smartphone. We enjoyed
using the device
at CES in January, and even more a few months later
at CTIA
, as it will be one of the first Android smartphones on Verizon to support
Netflix streaming
. Features included Android 2.2 Froyo with LG's Optimus 2.0 user interface, 4.3" WVGA TFT display, 1GHz processor, 5MP rear camera and a 1.3MP front camera, HDMI port, DLNA streaming, Bluetooth 3.0, and microSD memory card slot.
Lastly, the
Motorola DROID X 2
(MB870) will be priced at
$199.99
, and will take the place of the current DROID X on Verizon's lineup. Even though the DROID X 2 will not have 4G LTE capabilities, it will come with a higher resolution 4.3" qHD display (540x960) and next generation processor, which some say will be dual-core 1GHz, while others say it is single-core 1.2GHz. It is also expected to come with Android 2.3 Gingerbread. But the camera will remain unchanged at 8MP.
Keep in mind that the dates listed in the MAP are not the release dates, just the dates that the prices are in effect.
Thanks to a friend for the info!