Poll results: Is screen-to-body ratio important for you when choosing a phone?
13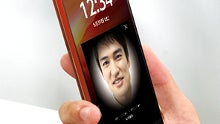 Phones are getting huge and heavy, leaving an impact not just in our wallets, but also in our pant or shirt pockets and purses, with some phablets straight-out uncomfortable to sit with, or even carry around due to their sheer length and width dimensions. Some phone makers, however, have taken notice, and tried to trim the side bezels as much as possible, fitting 5.5" displays in bodies suitable for 5.2" phones, or 5-inchers in a 4.7"-style chassis, for instance.
The undisputed king here is Sharp, whose
EDGEST
design gets rid of the top bezel almost completely, with the 5.4"
Sharp SH-04F
reaching the whopping 81% screen-to-body ratio, meaning that the phone is almost as big as a regular 5-incher. Some other major manufacturers, like LG with the
G3
, or not so major ones, like IUNI with the
U3
, are also trying to trim their flagships from all sides with great success. That is why we asked you last week about the level of importance you place on the screen-to-body ratio when choosing a phone.
Somewhat surprisingly, almost half of our 3303 respondents list screen-to-body ratio as one of the main criteria when they are choosing a phone nowadays. This means it's up there with specs and price-to-value for these folks, and manufacturers should definitely take notice before they slap huge top and bottom or side bezels on a device, and call it a day. For another 43%, the screen surface ratio is somewhat important, too, which leaves just under 10% of our respondents saying they don't pay too much attention to this particular design solution. Pretty telling opinions indeed.