Ashton Kutcher will play Steve Jobs in an upcoming movie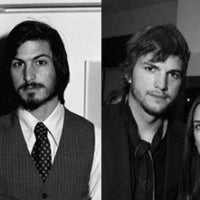 Ashton Kutcher will play Steve Jobs
in an upcoming indie movie. This seems like an April's Fools joke crafted by a genius, but all clues say it's actually true. Trade paper Variety broke the news on Sunday, April 1st, but we've never seen the publication post jokes and moreover this is featured, so while reserving some caution, we'd take it at face value.
Film reporter Jeff Sneider said that Kutcher will play the main role in the
indie movie

"Jobs."
It seems that the movie will cover the most interesting moments of Jobs' life starting with his hippie youth and going to his growth to co-founder of Apple.
The film will be directed by Joshua Michael Stern known for
"Swing Vote"
and the script will be written by Matt Whiteley. Production is expected to start in May when Ashton Kutcher will have some spare time from
"Two and a half men."
Kutcher is mostly known for his roles in romantic comedy, but recently critics lavished praise on his performances in more serious movies like Emilio Estevez's historical drama
"Bobby."
Sony is also preparing a
motion
picture dedicated to Steve Jobs based on Walter Isaacson's biography, but that one would be far from an indie movie.
Image courtesy of TheVerge.