PhoneArena writers' favorite smartphones

Summer is a traditionally quiet period for phone makers: all the major flagships from the first half of the year are already out there, while the time for the huge wave of new devices that come in the fall is still not here. What this means for us is that we can use the time to take a look back and reminisce in a somewhat nostalgic manner about our all-time favorite smartphones - devices that left a mark and that each and every one of us loves, sometimes for reasons foreign to pure logic.
Don't misunderstand us: PhoneArena is and will remain a place of objective analysis and no favorites, but each one - the writers here - has a soft spot for some device for a particular reason. That's what we want to share with you today, so that you get to know us better, and we invite you to share your own personal favorites and the reasons why you like them in the comments section as well. We know, we're all '
different - not the same
', after all.
And while it might sound simple, for most of us who get to see so many phones, the task to pick just one personal favorite proved to be quite the challenge. There had to be just one, though, and you can learn about this carefully picked device for each one of us right below.
Alan:
Motorola Droid Turbo
The 3900mAh battery let's me go all day and night without requiring an outlet search
The current favorite would be my daily driver now, the Motorola DROID Turbo. I love the way the Ballistic Nylon feels in the hand, and the 3900mAh battery lets me go all day and night without requiring an outlet search. The Snapdragon 805 runs fast and cool, and the Quad HD panel is incredibly clear and crisp. Sure, this is not a phone that stands out for its beauty, but it is built like a tank and easily handles everything thrown at it.
Motorola DROID Turbo Review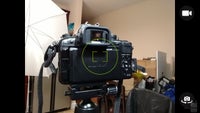 Chris:
Nexus 4
Without a doubt, the Nexus 4 is the device that I have the fondest memories of, seeing as it was my first proper smartphone. Sure, I had other smartphones before — like the Nokia E72 and the iPhone 3G — but neither was really powerful enough to matter. With the former, I'm obviously talking about the woefully inadequate and outdated Symbian OS, while the latter may have been a great device at the time of its release, but ridiculously underpowered by the time I got it. The Nexus 4, on the other hand, was blistering fast, and well worth the wait (it wasn't available in the UK Play Store for months after its US release).
I'm just that way — I don't like owning the same device as the person next to me
What I loved most about my Nexus 4 at the time was not just the ability to actually do apps (which was big for me at the time), but the simple fact that few people had one. I guess I'm just that way — I don't like owning the same device as the person next to me, and the person next to the person next to me. It's a massive turn off.
White Google Nexus 4 hands-on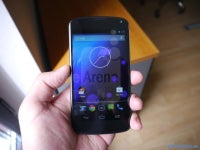 Daniel:
Meizu MX4 Pro
Awesome sound, compact design, and a neat gesture-laden interface
Meizu's crusade to be the next Xiaomi comes in the delightful form of value-for-money flagships, and the MX4 Pro is no exception. How about a 5.5" Quad HD display backed by a generous battery size, a 20 MP camera, a touch finger scanner, and dedicated sound processor for less than $400? Yep, I'll take it, also for the awesome sound, compact design, and the gesture-laden interface.
Meizu MX4 Pro Review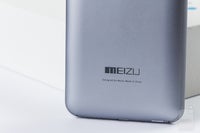 Florin:
Nexus 5
I use a black Nexus 5 as my main phone. And I do seriously love it, despite the fact that more powerful and eye-catching handsets are now available. I love the freedom that stock Android is giving me (I've upgraded from the Nexus 4), and the fact that updates are available as soon as Google is releasing them.
I love the freedom that stock Android is giving me
I was hoping that Google would launch a new Nexus 5-like handset in 2014. But it didn't, instead launching the Nexus 6, which is way too big for what I need. Size-wise, the N5's 5-inch screen is ideal for me, and it's also a great display when it comes to sharpness (445 ppi) and brightness. Moreover, the screen-to-body ratio is excellent.
What I also like about the Nexus 5 is the fact that it's not slippery - like many flagships on the market today - so I don't have to use a case (I don't really like them).
I know, the camera of the Nexus 5 can't stand next to the cameras of newer smartphones, but it's still good. Whenever I need to take higher quality photos, I just use a dedicated camera.
Nexus 5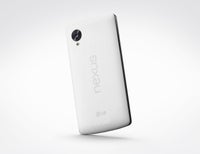 John:
Samsung Galaxy S6 Active
An almost indestructible design
The power and performance of the Galaxy S6 with an almost indestructible design - this is what the Samsung Galaxy S6 Active is all about. Thanks to its IP68 rating, it means that this bad boy is meant to handle nearly anything that everyday life has to throw at us. Therefore, that means it's shock resistant, dust-proof, and water resistant up to 1.5 meters for up to 30 minutes – the essential ingredients in giving it that sturdier protection than the S6.
Samsung Galaxy S6 Active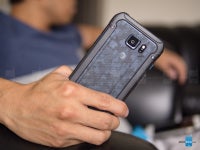 Luis:
Nexus 4
The Nexus 4 is somehow better than the sum of its parts
When it came out in 2012, the Nexus 4 was the diamond-studded race car of a smartphone that everyone who understood technology wanted, and actually could afford, thanks to a ~$350 price tag. It was a rare unicorn too, as Google and LG could never really sort out that supply and pricing thing. It took months for the Nexus 4 to reach many European countries, for example, and when it did, the price tag was dirty. Yet even today, the Nexus 4's strong design and technological traits hold up! The glowing patterned back is just the right combination of rad and cheesy. The quad-core Snapdragon S4 Pro chip, Quacomm's finest back in the day, comfortably chews the lattest Lollipop builds and most 3D games for breakfast, but boy does it sip on battery juice! The 4.7-inch display is cold and blueish like it always was, yet still pretty sharp. But the cameras, unfortunately, remain unsalvageable. Still, the Nexus 4 is somehow better than the sum of its parts. It's awesome to use and lends itself to all kinds of tweaking and poking like only a Nexus could. It's an all-time Android highlight and still an awesome backup phone to have! Unfortunately, mine had its digitizer go banana sandwich, and got sold for parts.
Google Nexus 4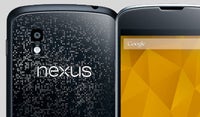 Maxwell:
Nexus 6
I keep coming back to the Nexus 6
My favorite device to-date is the Nexus 6, and it is my daily driver about 90% of the time. Stock Android really did not resonate with me until version 4.4 KitKat on the Nexus 5 then later the HTC One M8 GPe. To me it finally felt like the software and hardware was finally on the same page. When I learned of what Android 5 Lollipop had in store, I knew I was going to remain committed to the Nexus line. It
took me a while to get a Nexus 6
, and I have been fortunate that I did not experience many of the rough edges reported during the roll-out of Android 5. The screen size was not an adjustment for me because I also have a Lumia 1520. I swap my main SIM between a lot of different Android devices, and I still end up right back at the Nexus 6. It does not have some of the features that get added by other OEMs in their various skins on top of Android, but Google's adoption of Material Design has made stock Android something special in its own right.
Google Nexus 6 Review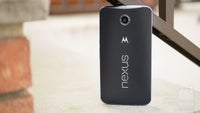 Nick:
Samsung Galaxy K Zoom
In the right hands, this phone can shoot masterpieces
The Samsung Galaxy K Zoom is an ugly abomination of a phone, it is heavier than any other smartphone around, and it is terribly slow despite packing six processor cores. But I like it for its camera. In my opinion, this is one of the best cameras I've ever seen on a phone, which is why I wouldn't mind having the K Zoom as my daily driver. In the right hands, this phone can shoot masterpieces. I hope you're working on a successor, Samsung!
Samsung Galaxy K zoom Review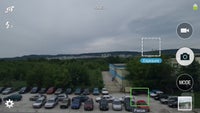 Paul:
Samsung Galaxy S6
Real-time musician apps!
The Samsung Galaxy S6 features a great design, finally a snappy TouchWiz, creamy display, and an awesome camera. And yes, the double-tap home camera shortcut really is the bomb! As a musician myslef, I appreciate that its mics record audio with surprising depth. Samsung is also the first Android manufacturer to bring
real-time musician apps to its phones
and its speaker finally sounds good (but still has room for improvement, as I mention in a
sonic wars comparison between the Galaxy S6 and iPhone 6
).
Samsung Galaxy S6 Review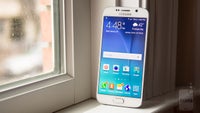 Peter:
Samsung Galaxy S4 Black Edition
Showed me the limitless potential of Android
Although dated as per nowadays' standards, the Galaxy S4 is still a device that is holding up. Relatively compact, with a feature sheet and hardware specs that proved to be perfectly sufficient for my needs, I will always have a soft spot for the Galaxy S4 and reminisce about the experience I had with one of my all-time favorite Android troopers. Hardware-wise, it doesn't stand a chance against the current batch of smartphones on the market, installing a custom ROM and applying north of 20 different firmware modifications made my Galaxy S4 almost perfect in terms of fluidity and performance. While tinkering with a phone was pretty fun while it lasted, it eventually bored me and made me slightly turned off with my otherwise beloved Samsung flagship. This, paired with a few unfixable hardware issues ultimately led to its sale to a third party. Regardless, I will always have a soft spot for this handset, which truly showed me the limitless potential of Android.




Though I'm currently using an

iPhone 6

, Apple's latest is yet to dethrone the iPhone 4 as my all-time favorite smartphone.


Even in those young, wild days of the smartphone revolution when everything was just so exciting, the arrival of the iPhone 4 was a tremendous event like no other. Nothing could come close to this product at the time, and for a reason.

A beautiful, super high-resolution display; a new chip that would redefine performance on mobile; a breath-taking camera; and a body to die for.


The arrival of the iPhone 4 was a tremendous event like no other
This was not a marginally better smartphone than the one before, like pretty much everything we see these days. It was a revolution. It was no-compromise. It was exceptionally thin for its time, yet managed to not have a protruding camera. It was so serene, so composed, that it looked equally beautiful from every angle. By the way, have you noticed how the recent trends in smartphone design often involve details that were pioneered by the iPhone 4? Like the flat front and back surfaces made of glass, held together by a sturdy metal frame? The Huawei P series, all recent Xperia Z phones, the Galaxy S6... Would all of these devices look the way they do if there was no iPhone 4? Probably... But you know what they say: if it's not an iPhone, it's not an iPhone.






Victor:
Apple iPhone 5
When asked about the one modern smartphone that has left a lasting impression on me I was torn between two devices: the Google Nexus 5 and Apple iPhone 5. I find these two devices to be of the most significant importance in recent history for different reasons: in the case of the Nexus, Google brought a small revolution in phone pricing by offering its flagship-grade Nexus 5 for half the price of other flagships and used this phone to prove that Android could run fast and lag-free. The Nexus 5 also has one of the best and most color-accurate displays on a smartphone to this day, something that is often overlooked, but of huge importance in daily usage. However, the Nexus 5 lacked the craftsmanship that one wishes for in a premium product: its cheap plastic feel is not particularly exciting, and the Nexus has a disappointing camera.
A 4-inch form factor that I am nostalgically attached to
That's what tipped the scales in favor of the Apple iPhone 5: an all-around excellent device in a 4-inch form factor that I am nostalgically attached to. The iPhone 5 is a monumentally important phone: it was the first phone with custom silicon made by Apple that proved to be extremely capable and paved the way for the future 64-bit Apple A7, it introduced a big leap in camera quality with an impressive new Panorama mode, it brought the Lightning connector, it was the first iPhone with 4G LTE, and the list goes on. Despite it being released way back in 2012, the iPhone 5 is a phone still running on the latest version of iOS (yes, it's getting iOS 9 in September). It's also an iPhone: it has an immense catalog of great games and apps that are simply not available on any other platform, and while iOS has some downsides, it also features two of my personal favorites: the extremely quick and efficient Spotlight search and a physical home key that you can just long press and start speaking to Siri to quickly set an alarm or add a reminder without even looking at the phone.
Apple iPhone 5