Google's new Android ad is extremely cute and heartwarming (and has nothing to do with mobile devices)
11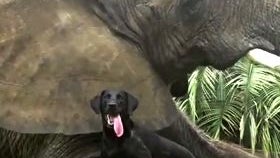 Back in November, when Google launched Android 5.0 Lollipop, it also debuted a "be together. not the same."
ad campaign
- including videos presenting various use scenarios for Android-powered smartphones, tablets, and smartwatches.
Now, Google released a new ad, but this time it has nothing to do with mobile devices (or technology, for that matter).
Instead, the ad simply presents lots of very different animals having a great time together, in a heartwarming succession of clips. If this is aired on TV, it's unlikely that viewers will guess what it's all about before the end, when the "be together. not the same." tagline appears, alongside the Android logo. The new ad is called Android: Friends Furever, and you can watch it below.
This might very well be the coolest Android ad ever. While it hardly mentions anything about Android, it clearly captures the very essence of the platform (which allows us to choose from a vast selection of devices and UIs). What do you think?