Tried to order a Nexus 6 and failed? You're not alone
33
This article may contain personal views and opinion from the author.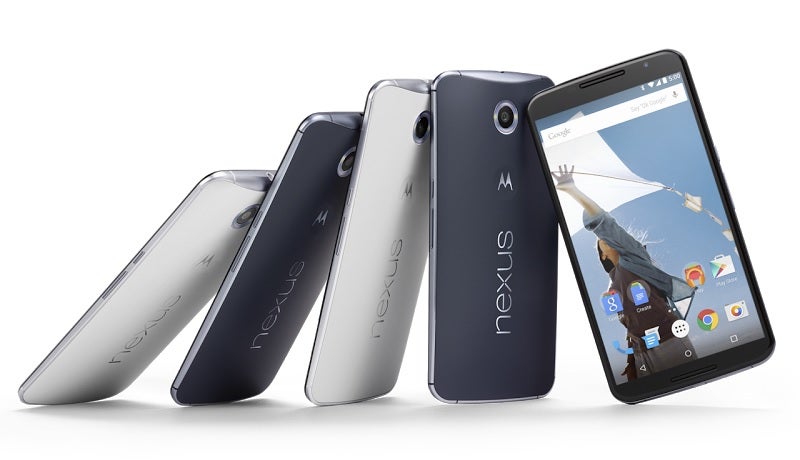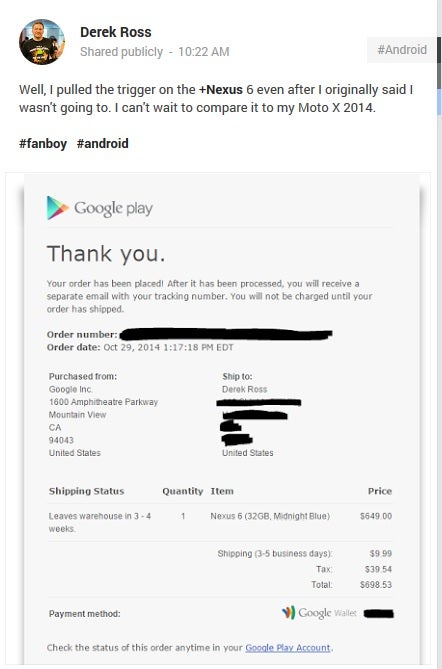 Even geeks who didn't think they wanted a Nexus 6, ended up buying a Nexus 6, something that will probably be a common occurrence
Sometimes, we're right there with you. Not all of us can be like our very own John V., who already has
his grubby mitts on a Nexus 6
and
Nexus 9
. If you were anything like me, you stayed up late, or woke up early, sat impatiently in front of your computer, holding your phone or tablet, wearing out the F5 (refresh) key on your keyboard, or developed muscle memory refreshing the browser on your mobile device.
With no guidance from any particular authority, no one was absolutely certain when the pre-orders would go live on Google Play. Social media had plenty of folks asking with no answers forthcoming. It was a virtual version of a line outside an Apple store on the iPhone launch day. I will argue that the "virtual" Nexus queue is better because we can sit at our desk and enjoy snacks and not have to worry about the weather.
For me, I had to step away from my computer. Nature called and there was no more avoiding it. During those few moments, I missed that window when orders for the
Nexus 6
went live, and subsequently "sold out" in
less than five minutes
. You could not ask for more perfect timing if you were Charles-Félicien Tissot making your first watch. It was actually a little bewildering, like the
Ice Age
character, Scrat, the squirrel, at that moment his eye starts to twitch upon failing to get his acorn,
again
.
Honestly, I don't know what I was thinking. It is like this every year, so I should not be surprised at all. Google Play's order system just seems to plain break. That, or it just cries, "Uncle" early on to stem the tidal wave of order requests a bit while the rest of us sit and stew. I really have no idea why I had any higher expectations in the wake of the amazing mess that was the
Nexus 4 rollout
two years ago, or the similar traffic jam with the Nexus 5. Don't get me wrong, I will pick up a Nexus eventually, but isn't it striking to see how an arguably niche product for tech geeks seemingly overwhelms the world's biggest internet company? The internet is hard, even for the experts on both sides it seems.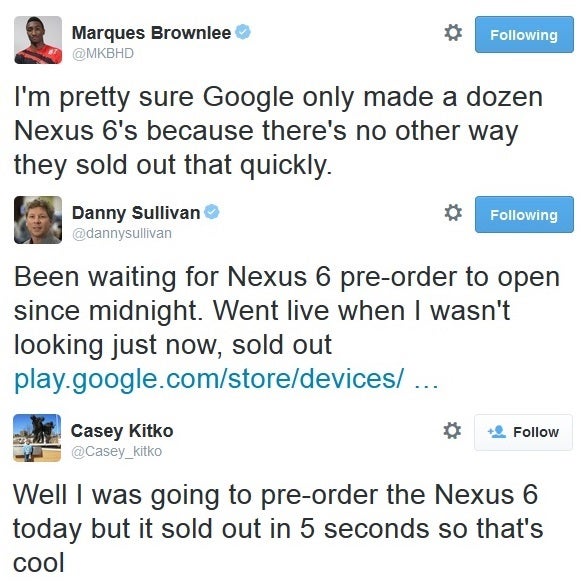 And just like that, it's gone.
Seeing products sell out fast can be taken as a good sign, then again, I wonder if this
Gone in 60 Seconds
type stuff is cool anymore. At least Apple would make an announcement at the end of the first weekend's sales of its new iPhones, so people could justify camping in front of a store for a week. It is reasonable to expect that no such volume would be forecast on a SIM-free, no-contract, full-retail Nexus 6, and as such, we won't get that kind of information from Google or Motorola. As in the past, it is sure to be a wondrous exercise of craziness if we witness this spiffy new Nexus getting re-stocked sporadically.
Are there other factors to consider? It could be argued that the carriers could have imposed some type of condition limiting initial availability of the Nexus line, particularly since the top five wireless providers in the United States will be offering it, presumably on different dates. Despite that, one could say carriers want some of that fever. I don't fully agree with that because unlike the
Nexus 5
, which is, in my opinion, the best deal for smartphone on the market right now (yeah-yeah, I know someone wants to say, "ooh, don't forget the OnePlus One," well I'll argue you need to be able to
actually buy the thing
to make that case), the Nexus 6 has a premium price tag, and the US market is simply not mass-oriented to shelling out $700 for a phone.
So, there it is. Anyone that had any doubts about the demand for a Nexus phablet can put those issues aside. While it would be interesting to see how many successful orders there were during the mad-minute-rush, I am more interested in seeing how quickly Motorola is able to respond to the demand. This is arguably Motorola's swan-song device while still under the wing of Google, not that it will be lacking anything as a part of Lenovo. Still, image is everything, and if Motorola pulls off the ability to kick things into high-gear to meet demand, it makes everyone look good, and it will make a lot of happy customers.
Were you successful ordering a Nexus 6? Did you have the reflexes of a cobra and click everything at the perfect time? Or, was it like Scrat and his pursuit of that lone acorn, so close, yet so far?