PhoneArena Awards 2014: Flops and disappointments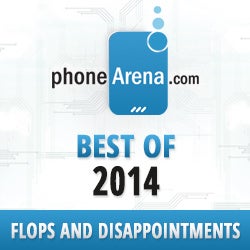 Have you ever had one of those ideas that seemed great on paper, but then failed in practice? Don't worry, we all have and know how that feels. The truth is that nobody is immune to failure – neither average Joes, nor the managers of billion-dollar businesses.
Speaking of failures, the mobile industry did see a few flops and disappointments over the course of 2014, so we thought we'd highlight three of the most notable among them. Here are three good examples of how a seemingly brilliant idea may lead to underwhelming results if not thought out well. These are the Amazon Fire Phone, the OnePlus One, and Nokia's X phones.
The Amazon Fire Phone
Riding the wave of success triggered by its Android-based
Kindle Fire tablets
, Amazon boldly announced that a smartphone was also going to join the family. And so it did – the
Amazon Fire Phone
was released through AT&T on July 25 for $199.99 on a 2-year contract. It was a pretty decent phone in terms of specs, and on top of that, it came with a handful of perks, including a 3D-esque visual effect in some apps and games, a year of Amazon Prime service for free, and Mayday customer support. This, however, wasn't enough to convince buyers that the Fire Phone was worth picking instead of, let's say, a Galaxy S5 or an LG G3, neither of which was more expensive than Amazon's offering at the time. In fact, the Fire Phone flopped so bad that Amazon had to write off $170 million worth of unsold handsets. This was followed by a Fire Phone fire sale. In late October, Amazon dropped the price of its phone to $199.99 off-contract.
The OnePlus One and its limited availability
There's no denying that the OnePlus One is a pretty good smartphone. With its design, specs, and feature set, it is a worthy rival to any 2014 high-end handset. So, what is it doing on this list then? Well, the company behind the "2014 flagship killer" and "perfect smartphone" set our expectations sky-high prior to announcing the device. The hype grew even further when the device's $299 price tag was announced. But then came the bitter truth – one couldn't buy the OnePlus One just like that. Purchasing one required an invitation, and these were frustratingly difficult to get. The phone did go on sale through retailers eventually, but it sold at a higher cost. It took until September for OnePlus to ditch the invite scheme and go with a proper pre-ordering system instead.
The Nokia X series
Remember the
Nokia X
,
X+
,
XL
, and
X2
– Nokia's extremely affordable Android-based smartphones? Nobody's going to blame you if you don't since they didn't make much of an impact on the market. In fact, Microsoft froze their development this summer without hinting that the lineup would ever be expanded. The Nokia X phones were cheap and well-built, but slow, rough around the edges, and limited in terms of software. They had no access to the Google Play store, which meant that users who wanted to install an Android app had to either sideload it, or download it from a third-party marketplace. And since decent low-cost Android phones could be had for just a few bucks extra, the Nokia X phones simply couldn't manage to stand out.