PhoneArena Awards 2012: Game-changing Product
59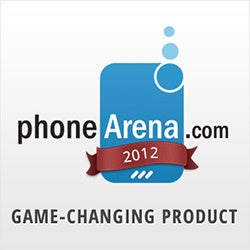 Don't you feel like a new phone or tablet gets announced almost on a weekly basis? Guess what, so do we! A great fraction of these new devices aren't anything special, though – they are often just a model somewhat better than the previous one, meant to occupy the price point of its predecessor. The older version just goes further down the hierarchy until it gets discontinued. Yeah, the whole circle-of-life principle is also valid when it comes to mobile gadgets.
Every once in a while, however, a new product steps in and changes everything. Its impact on the mobile industry is so significant that it causes competing companies to rethink their strategies if they are to survive on the market. And that's when things get really interesting!
The second category in the PhoneArena Awards of 2012 is for the year's game-changing product. In fact, we have not one, not two, but three products to honor today, and they all were made possible by a single company, although three different makers were given the task to produce them. Can you already guess what are the three gadgets we are talking about?
The 2012 Google Nexus family
Powerful hardware and amazing software delivered at an unbelievable price – these are the primary factors that made us pick the Google Nexus 4, Nexus 7, and Nexus 10 as the game-changing products of 2012.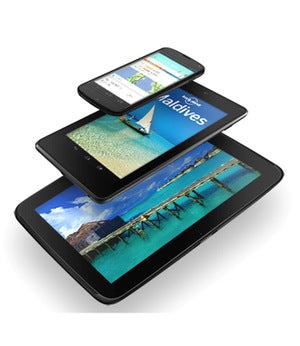 The
Google Nexus 7
is the device that launched first. Announced back in June, it was a great, budget-friendly tablet that could be bought for as low as $200. Yeah, we had the identically priced Kindle Fire before it, but unlike Amazon's offering, the Nexus 7 delivered the full-blown Google experience. And its hardware was nothing to complain about either. NVIDIA's quad-core Tegra 3 is still a pretty decent piece of silicon, and the 1280 by 800 pixel IPS LCD screen is more than suitable for a tablet of this class.
Fast forward several months into the future and the Google Nexus 4 gets announced – an outstanding high-end smartphone based on the LG Optimus G. However, it wasn't its powerful quad-core processor that impressed us the most, neither the new Android 4.2 Jelly Bean that ran on the device. What was most astonishing about the
Google Nexus 4
was its price – only $350 for the 16GB model. No wonder that the Google Play store ran out of stock shortly after the smartphone was made available for purchase.
And how can we not mention the
Google Nexus 10
tablet? It is another beast of a device, blessed with a powerful processor and a gorgeous 2560 by 1600 pixel display. Its $400 price tag is just as impressive as its hardware specifications.
And these, folks, were the three game-changing products of 2012! Would you agree with us, or would you rather say that a different device should have been awarded? Let us know down in the comments! Also, the next category in PhoneArena's Awards of 2012 will be announced in 24 hours, so stay tuned!