PhoneArena Awards 2012: Worst Phone
99+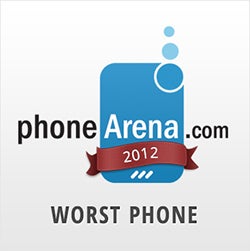 Our frequent readers are probably well informed as to which of the phones currently on the market are good and which aren't. After all, it is our duty to review as many of them as possible and then tell you which handsets you should avoid or purchase in case you're out looking for one.
Speaking of which, the great majority of the phones we got to play with over the past 12 months were actually very decent devices. Some of them, however, weren't that well executed, and today we'll tell you about the ones, which we were most underwhelmed by.
There is a total of five phones that we believe deserve to be mentioned, and the first one on the list is...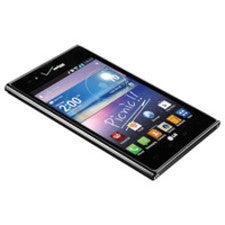 LG Intuition
The LG Intuition, also known as the LG Optimus Vu in its homeland of Korea, was the company's attempt to enter the realm of jumbo-sized smartphones, where the Samsung Galaxy Note II dominates to this day. Unfortunately, LG's offering failed to win our hearts for a number of reasons, the most prominent of them being its sheer size. Yeah, we know that the Note II is gigantic as well, but at least it is narrow enough to be held with a single hand, whereas the Intuition would feel awkward even if handled by an NBA star.
But don't get us wrong - in some occasions, the LG Intuition's 4:3 screen aspect ratio has its benefits. For example, its proportions make browsing the web quite convenient. Yet for the most part, the LG Intuition just isn't practical, especially when you'll have difficulties finding a pocket, in which it would actually fit.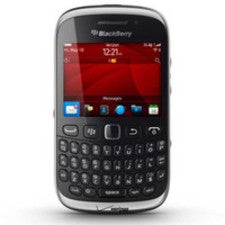 BlackBerry Curve 9310
What you're looking at is the best phone RIM managed to release during the entire 2012 - the BlackBerry Curve 9310. And given that it is just a humble handset inferior to the 2011 'Berrys, with mediocre specs, tiny screen, and outdated interface, we feel sorry for anyone who has spent $50 on one of them instead of, let's say, picking an Android alternative. The only advantages that you get with the Curve 9310 are the hardware keyboard and the access to BBM, but with the way competing smartphone platforms are developing, these perks are gradually becoming less and less significant.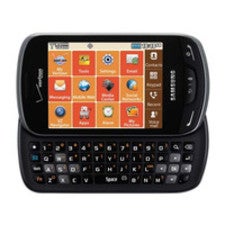 Samsung Brightside
The Samsung Brightside was a disappointment on multiple levels, but its biggest flaw was its outrageous $100 on-contract price tag. This figure would have probably been tolerable if we were dealing with a mid-range Android device, but it is just way too much for a feature phone, especially when it doesn't have anything to stand out with, other than its slide-out QWERTY keyboard. To no surprise, third-party retailers quickly picked it up at much more acceptable prices, down to zero dollars on a 2-year agreement.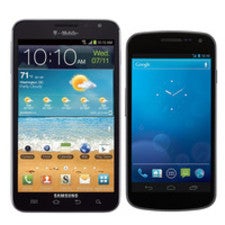 Honorable mentions: Samsung Galaxy Nexus (Verizon) and Samsung Galaxy Note (T-Mobile)
Before you start bashing us in the comments for adding these two smartphones on our list, allow us to explain why we decided to mention them. The Samsung Galaxy Nexus is supposed to deliver pure, unaltered Google experience, just like any other Nexus device. It should also get the latest software updates soon after they are officially announced.
However, that simply isn't the case. Android 4.1 Jelly Bean was released for the Verizon Galaxy Nexus on September 21 - almost three months after Google publicly unveiled the new software, while the GSM variant of the smartphone got it all the way back in July. To us, that's unacceptable. Currently, Verizon's Galaxy Nexus is stuck with Android 4.1.1 and has yet to receive any of the 4.1.2, 4.2, or 4.2.1 software updates.

As for the T-Mobile Samsung Galaxy Note, it was a disappointing device for a different reason. You see, customers hate it when they buy an expensive new smartphone, or any other high-tech product, for that matter, only to have their device replaced by a newer model in a matter of weeks. Sadly, that's what happened to those who purchased a Samsung Galaxy Note from T-Mobile.
The smartphone's arrival on the nation's fourth largest carrier was announced in late July. Then on August 8, the handset was already available for purchase, but only three weeks later, the Samsung Galaxy Note II was already official. In other words, anyone holding on to a T-Mobile Galaxy Note at that time suddenly became the owner of an outdated smartphone.