Patent at the core of Android interpreted in Apple's favor
49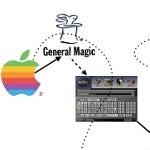 An interpretation of
Apple's '263 patent
has been made by
United States Circuit Judge Richard A. Posner in a way that could lead to HTC being found guilty of infringing on the patent. That could be bad news for Android manufacturers as the technology covered by the patent is at the

core of Android powered handsets

. That means it is not a UI or hardware design that can be changed to workaround the patent.

HTC originally was found to have infringed on Apple's realtime API patent by an ITC Administrative Law Judge, but the 6 member ITC Commission reached a final decision on the ruling and reversed the ALJ. The final ruling was that HTC infringed on Apple's less important
"
Data Detectors
" patent and said
it would be removed from the Taiwan based manufacturer's devices
.
went back to the days when it was developing the '263 patent
and the use of it at Google by Android's top developer, Andy Rubin. Rubin's career, claimed Apple, started at the Cupertino based company where he
was a low-level engineer
who reported to the developers of the '263 patent at the time it was under development.
According to the order from Judge Posner, the '263 patent (which is the same as the Realtime API patent),"
I therefore construe 'realtime application program interface' in claim 1 of the '263 patent to mean an 'API that allows realtime interaction between two or more sub-systems
," which is exactly the interpretation that Apple wanted. According to Florian Mueller of
FOSS Patents,
with that interpretation, HTC
could be found guilty by a jury
of infringing on the patent, but less likely to find the patent invalid.
If it sounds like
Android might have a major problem soon
,
Foss Patents'
Mueller agrees saying that if an appeals court agrees with Judge Posner, major problems could be ahead for Android. And Mueller says that the ruling by the judge will carry more weight with the CAFC than the ruling by the 6 member ITC.
source:
FossPatents
via
AppleInsider