Apple tells ITC that Andy Rubin took Android framework from them
81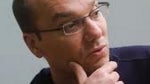 Related to its case against HTC, Apple just filed some more paperwork with the International Trade Commission. In the filing, Apple said that while HTC would like the ITC to believe that Andy Rubin's career started at Danger or at General Magic in the mid 1990's, the truth is that he was a low-level engineer with Apple in the early 1990's and
took the framework for Android from them
.
Apple said that evidence at a previous hearing showed that
Rubin actually worked as a low-level engineer at Apple in the early 1990's
where he reported to the inventors of the '263 patent, which has to do with real-time API. According to the filing, Apple claims that the Android platform uses the subsystem process from the '263 patent which allows for a flexible design and allows Android to be, as HTC puts it, '
highly customizable and expandable
'.
Instead of directly accusing Google of patent infringement, Apple simply is pointing out that HTC is not being totally truthful with the court. So far, the Cupertino based firm has sued handset manufacturers and not Google directly. If Apple decides to take Google to court, Rubin's days at Apple might receive more scrutiny. The whole statement from Apple would certainly change the history books if Apple's statement is true, that Android came from Apple. Even more serious, if the ITC upholds the ruling that the '263 patent is valid and Apple does decide to turn against Google,
it is possible that Apple could get an injunction against Android sales
.
As it currently stands, Apple's legal focus in this case is on HTC which means that
Rubin's employment history is a moot point
, except-as we already pointed out once-just to show that HTC is not being totally truthful.
source:
FOSSPatents
via
Phonescoop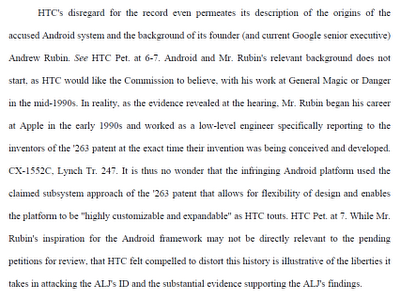 Part of the original document filed by Apple