Outstanding vinyl skins for the LG G5: comic heroes, leather, and wood aplenty
10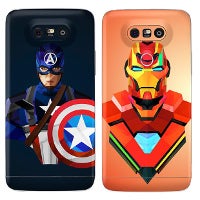 The LG G5 is about to hit the shelves these days, and you might be thinking of getting one, even moreso if the Galaxy S7 or S7 edge have for some reason failed to attract your attention. Speaking of attraction, the sleek aluminum phone will hardly attract any fingerprint smudges. That's quite unlike the Galaxy S7 or S7 edge, which have these slick glass backs, but smudge like crazy.
So, you've decided to get an LG G5. That's nice, but if you're scared that you might damage your new prized possession, then you'd probably pick a case for some added protection. But what if you don't like cases? Well, your options are then quite limited. One of the first that comes to mind is slapping a nice vinyl skin on the device. Admittedly, this won't add any protection at all, but it might slightly improve the looks of the device, if chosen smartly, of course.
Check out some of the better ones of course.
Even greater LG G5 stuff to read: