LG G5 user interface walkthrough – a saunter through the modular one's apps and menus
21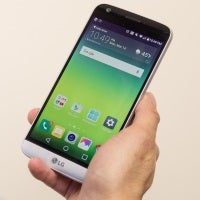 The LG G5 is about to make its global debut on April 1. With a combination of powerful internals and attractive design, this is definitely one of the high-profile Android smartphones to consider this year. In this article, we're going to take you on a brief walkthrough through the smartphone's user interface.
Rather than keeping its flagship phones looking and feeling the same through each generation, LG likes to showcase visible interface updates together with its brand-new phones. The LG G3 (2014) defined a baseline design, which modernized the aging skeuomorphic icons, got rid of the inconsistent and bland colors, and streamlined the entire experience to make it easier to navigate. The LG G4 introduced a color refresh and some new icons, but not much in the way of significant changes.
The LG G5, though, boasts notable design updates. LG got rid of the app drawer for good, made theme and icon colors less eye-popping, and reduced the menus to mature shades of black and gray. Ready to dive in? Let's go!
Also read: