LG G5 Q&A: your questions answered!
23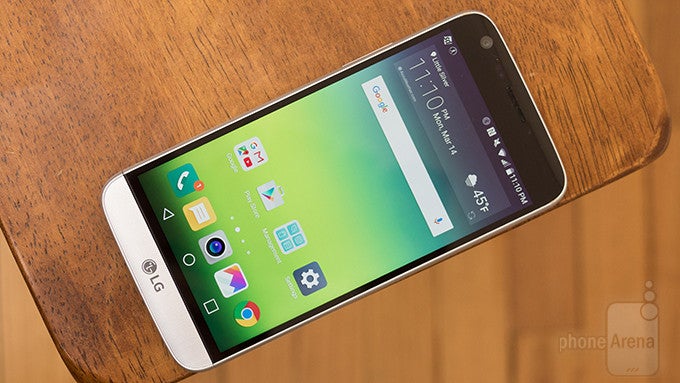 We gave you the opportunity to have your LG G5 questions answered, and here they are! Have in mind that as we have a
pre-production
LG G5 unit on us, we have not answered any questions related to:
display measurements
audio quality
camera image quality
battery life
These will all be addressed in our final review of the phone, which is coming soon. Until then, you will have to satisfy your hunger for information with the following bits, but first make sure to check these out:
---
Question from
ram_qashow
:
"How does it feel in the hand ? I mean is it as comfortable as the Galaxy S7?"
PA:
The Galaxy S7 feels a bit more comfortable in the hand. Part of this is due to the chrome edge on the frame of the G5, which digs into the hand a bit. The back is a bit slippery, but that's the case with most of the aluminum phones out there.
Question from
alexp999
:
"Is there a limit to the number of apps you can put in a folder with the default launcher? I.e. is it possible to move all your apps in to a folder to create your own "app drawer"
?
PA:
No, there doesn't seems to be such a limitation. Once you put more than 9 apps in a folder, an additional page is automatically created. Yes, we guess you can use this as an app drawer of sorts!
Question from
alexp999
:
"Is there a quick toggle for the always-on display feature, or a way to set it off at night to save battery?"
PA:
Sadly, there isn't such a toggle. The only way to disable the always-on display is by heading to the Settings menu. We know, we are not fans of this either. LG should have taken a page of Samsung's book, as the Galaxy S7/S7 edge have such toggles.
Question from
alexp999
:
"How aggressive is the auto brightness and can you adjust it? I.e. Auto brightness on, but drag the slider to adjust the offset?"
PA:
The auto brightness on the LG G5 is a bit aggressive, yes. You should know that the brightness slider doesn't have any offset in auto mode, meaning that even if you have automatic brightness enabled, you can also manually adjust it from the dimmest to the brightest setting.
Question from
fancollo
:
"How does the UI perform with the S820?"
PA:
We are pleasantly surprised with LG's UI this time around. The UI feels rather snappy and quite responsive, with no hiccups here and there. Certainly a performer, that LG G5!
Question from
JustinC
: "
With the camera module, I can get 4000mAH of battery when I use the camera module. Does it mean that I get a battery of 4000mAH or it is just a additional build-in 1200mAH in the module in addition to the 2800mAH battery?"
PA:
Well, you'll have 4,000mAh at your disposal.
Question from
fancollo
:
"How is the "new" camera app?"
PA:
It looks pretty sleek and minimalistic with the new outline iconography. The interface itself is pretty intuitive and pleasant to look at. It's a bit different from what was found on the G4 and the V10, and we really like it.
< Regular camera
Wide-angle camera >
Question from
cjmunson24
:
"Is there a setting in the phone to bring back the app drawer?"
PA:
Yes, you can bring back the app drawer by enabling the stock "Easy Home" launcher.
Question from
JustinC
: "With the module design, will the part be loose and easily spoiled?"
Question from
greenelektron
:
"Do you think that the mechanical latch (or something) where the Friends are attached to will wear out fast?"
PA:
Our pre-production unit did not have a wonky module mechanism. On the contrary - it actually fits in pretty snug and you have to exert some force to actually move the lower part of the module around. It doesn't feel like it's about to become loose anytime soon, but it really depends on the way you use it.
Question from
JustinC
: Since it is a full metal design does it get warm easily?
PA:
Well, the phone will get warm after an intense 10-minute gaming session, but in mundane everyday usage it's rather unlikely to get unpleasantly hot. Overall, the heat dissipation is good.
Question from
Takeharu
:
"How does it look in person, better than on photo's? Also, are the bezels really that big?"

Question from
jessyi:
How does it looks.some say it look beautiful in person others say it not quite good!
PA:
The phone undoubtedly looks better in person than on photos and press images. Certain design elements, like the chrome edge for example, are not exactly standing out on pictures, but in real life, it really makes a difference, though it's debatable whether it's a good or a bad design element.
Question from
Konsento
:
"How fast is the fingerprint scanner compared to, say, the Nexus 6P or iPhone 6S?"
PA:
G5's fingerprint reader is very fast, probably on par with the Nexus 6P. You should also know that placing your finger on the reader will automatically wake up and unlock the G5 without even showing the lock screen.
Question from
mjergen
:
"Is there a quick launch for the camera ? Can the camera shutter sound be disabled?
"
PA:
Double-clicking the volume down button launches the camera. You can also quickly snap a photo with the volume down button, too. There won't be any shutter sound if the phone is muted.
Question from
mjergen
:
"How hard is it to hold it in one hand (ideally compared to the Galaxy S6)?"
PA:
Being a bit wider and taller than the Galaxy S6, the G5 is a bit harder to use with a single hand. It's also a bit more slippery than the S6.
Question from
Arschsalat
:
"Does it taste sour?"
PA:
A rather important question! No, it doesn't.