Our OnePlus One battery life test is complete: score rattles the Sony Xperia Z2's throne
44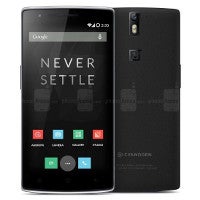 The
Sony Xperia Z2
held its ground for the excellent 8 hours and 10 minutes on our custom battery life test in May, which actually put the phone at the very top of our rank list, at least in terms of current generation flagships. And while this continues to be the case, it would be wrong to claim that the Z2 (a 3200 mAh battery) shouldn't feel threatened -- the OnePlus One (OPO), whose test was just completed, achieved a score that is equally as impressive.
Put into numbers, the OnePlus One's 3100 mAh battery persevered for the as-amazing, 8 hours and 5 minutes, putting it at a hair's distance from the Xperia Z2. Considering how small its lead is, it's probably safe to say that the new smartphone upstart produced a phone with battery life that proves to be just as good. Indeed, in our time with the OnePlus One so far, we usually found that we need to charge the phone every two days, and more can be squeezed out of the OPO if you go easy on it, and especially if you utilize battery-saving techniques, like turning off the 3G and Wi-Fi radios when the phone is not being used. Either way, the team at OnePlus has something to be proud of.
As a refresher, the
Samsung Galaxy S5
's relatively smaller, 2800 mAh cell managed 7 hours and 38 minutes, while HTC's finest in the
One M8
(2600 mAh) took 7 hours and 12 minutes before giving up. Last on that list is the
LG G3
, with its 3000 mAh battery, which kept the lights on for 6 hours and 14 minutes.