OnePlus to halt sales of the OnePlus 3 for more than a month in 24 countries
16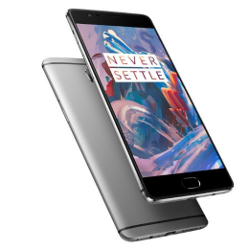 The
OnePlus 3
is the fastest selling OnePlus device ever sold. That bit of positive news comes from co-founder Carl Pei, who must be living up to his Twitter handle (@getpeid). Without the invite system to drag things down, the OnePlus 3 is selling better than the company expected. This forced OnePlus to extend the shipping date on new orders, especially in mainland Europe. The company is running out of inventory in certain markets.
In order to build inventory back up in affected countries, sales of the OnePlus 3 will be halted starting August 9th at 6pm EDT, until September 12th at 5:59pm EDT in the following markets:
Austria
Belgium
Bulgaria
Croatia
Cyprus
Czech Republic
Estonia
France
Greece
Hong Kong
Hungary
Ireland
Italy
Latvia
Lithuania
Luxembourg
Malta
Netherlands
Poland
Portugal
Romania
Slovakia
Slovenia
Spain
If you place an order prior to August 9th, you will not be affected by the sales halt; your phone will go out on the estimated shipping date.

Pei says that OnePlus will put up a page where consumers can leave their email address so that they can be notified when orders resume. Concern about a mismatch between supply and demand is exactly why OnePlus resorted to the invite system during its first two years in business. OnePlus was worried about supply overwhelming demand which would have left them with too many unsold phones. But the opposite is occurring. The OnePlus 3 has been selling so well in Europe that demand has overwhelmed supply. The sales halt gives the company time to build more phones so that it can balance supply and demand.
"We are working hard to secure more stock and fire up more production lines so that we can fulfill our goal of putting premium products into the hands of as many people as possible. With this note I wanted to give customers in affected regions enough advance notice to be able to purchase a OnePlus 3. If you're planning to purchase but can't do it before we pause sales, we'll be offering an in-stock notification service where you can sign up with your email address to be notified when we're back in stock."-Carl Pei, co-founder, OnePlus
If you live in one of the 24 countries and are dying to buy the OnePlus 3, we would suggest that you make the purchase before next Tuesday. Otherwise, you won't be able to order the handset for more than a month.
source: OnePlus