Nuvifone G60 delayed for the second half
4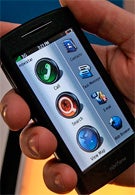 The Nuvifone G60 is a nice looking smartphone with lots of promise. With a Linux based OS and Garmin's leadership in GPS, this device is expected to make it simple to get from one place to another or, say, find a restaurant that serves Squid. One thing it apparently can't do is find it's way into the stores. Previously pegged to be released in June, as we
told you
, the G60 is now being pushed back to sometime during the second half of the year.
The handset was originally announced back in January 2008 and President and COO Cliff Pemble put the blame for the delay on the complexities of today's smartphone. "Smartphones are complicated and bringing one tomarket that's built totally from the ground up on a custom Linuxplatform is not an easy task," he said. On the other hand, his company could have decided just to release the handset as is, bugs and all, and told everyone that it is the new reality in the world of smartphones. Nah, who would ever
do something like that
?
Garmin-Asus Nuvifone G60 Specifications
|
Hands-on
source:
TWICE
via
EngadgetMobile