Is Gorilla Glass 5 all that it's cracked up to be? First Note 7 drop test, hammer, knife and water torture
16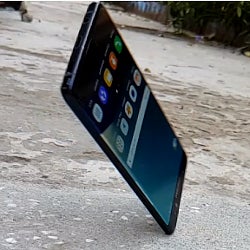 Replacing the curved
S7 edge
display
costs $270
, so we can only imagine how much would that flexible 5.7" Quad HD Dual edge Super AMOLED panel of the
Note 7
set you back if you drop it face-down. That's why ever since Corning announced its next generation of toughened cover for the screens of flagship phones and tablets -
Gorilla Glass 5
- we've had one thought in our mind.
It turned out that Gorilla Glass 5 is indeed
making its debut on the Galaxy Note 7
's front and back, leveraging Samsung's outsized investment in Corning once again. Corning are actually promising shoulder-height drop survival rates of up to 80% with Gorilla Glass 5 (before it was waist-height), but before we see the Note 7 fall face down on concrete and remain relatively unscathed, that is hard to believe.
Well, that day has come, and the new toughened glass series from Corning is indeed all that it's cracked up to be (pun intended). As you can see in the first Note 7 drop test below, the phone easily survives drops that would have shattered the
Note 5
, so you can be relatively certain that your $800+ glass phone won't be laid to waste by everyday drops and scratches. We are including one of the first Note 5 break tests, where last year's phablet falls from roughly the same height, just for comparison giggles.