Nokia looked to partner with RIM before selecting Microsoft
15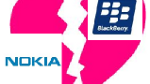 According to reports circulating overseas, before deciding to partner with Microsoft and its Windows Phone 7 operating system, Nokia attempted to work out a deal with RIM. And while it seems that Nokia was extremely interested in having its smartphones loaded up with the BlackBerry OS, RIM told the Finnish based firm that it was not interested in a partnership. And that left Nokia with two options-Android or Windows Phone 7.
With Android, Google refused to make a number of changes that Nokia wanted. For example, Nokia wanted Google Maps replaced with Ovi Maps and also wanted to change the way Google's open source OS handled PIM data. Nokia also wanted changes in the way Android handled email, the calendar and contacts. Giving in to Nokia would have affected Google's revenue flow, so the Mountain View based firm rejected the idea.
On the other hand, Microsoft was willing to make the changes to Windows Phone 7 that Nokia wanted. The latter will have some say into the future development of Windows Phone 7 and Ovi Maps will become part of the platform. And for Nokia, exiting the OS business means letting people go in R&D and software engineering. Spending on Symbian and MeeGo is expected to be close to zero next year. And the handset manufacturer plans on taking its integration of Windows Phone 7 to the U.S., specifically the Silicon Valley area from where it hopes to start gaining a larger presence in the U.S.
source:
TechCrunchEurope
via
BGR