Nokia CEO again says 'we would consider any option' on operating systems going forward
62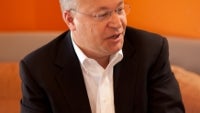 Nokia CEO Stephen Elop
was caught on tape
not long ago saying "anything is possible" on the question is it possible that the company moves to Android at some point, for either its tablets or its phones. The PR team was quick to release a statement that he had been mistranslated.
Speaking in Australia the other day, Nokia's CEO let one slip again, when discussing the possibilities of releasing a tablet, and the eventual mobile OS it will use. "
We haven't announced tablets at this point, but it is something we are clearly looking at very closely
," he said, and then it became interesting. "
Our first focus on what we look at is clearly in the Microsoft side
," was the follow-up, while he again stated Nokia "
would consider any option,
" for the horror of the PR people around, who advised he mention
"but we have made no decision or announced nothing
."
Whether these are deliberate efforts or just common sense "never say never" comments, remains to be seen, but in the meantime we can't wait for the rumored
Nokia EOS Lumia
phone with
PureView Phase 1
camera to materialize and take the spotlight off any and all cameraphones out there.