US-bound Nokia Lumia EOS with 41MP PureView sensor reconfirmed by The Guardian
27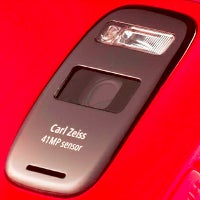 Not that there's been any doubt Nokia is working hard on bringing its
PureView Phase 1
sensor, as found on the groundbreaking
808 PureView
handset, to the Lumia range, but now the rumor gets reconfirmed by one more reputable source - The Guardian.
We've heard a few times before that the handset is heading to AT&T, and
possibly Verizon
, but so far the speculation was that it will have a scaled down version of the PureView Phase 1 sensor, with twenty something megapixels to do the oversampling magic that yields such great results in the last Symbian phone. The EOS is expected to be thin and aluminum-clad, and we'd expect a sizable "hump" on the back for the huge sensor, which we can care less about if the results are what the 808 PureView delivers.
Asked for comment, Nokia gave the usual boilerplate reply that it is flattered by the attention given from the Guardian to the Lumia range, but it is company policy not to comment on rumors. The EOS phone is expected to launch in the US come summer, so we might be seeing it announced at the MWC expo, as
Nokia already scheduled a press event for February 25
there.