Nokia's CEO content with Windows Phone for now, but "anything is possible"
37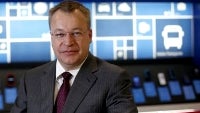 Hmmm, Nokia's Stephen Elop might not be Ballmer's Trojan Horse after all, or at least that's the impression left when he answered "anything is possible", to the question if there is a chance that Nokia befriends one little green robot we know.
The interview was for the Spanish newspaper El Pais, and Nokia's CEO argued that the
Lumia 920
sales are pretty encouraging, and he sees the company getting double-digit market share at some point in time, then going forward to split hairs with the Android and iOS juggernauts. If the rumored
thinner metal-clad Lumia with PureView tech
materializes this year, he wouldn't be far off that double-digit goal either.
El País:
Do you discard launching an Android phone next year?
Elop:
In the current ecosystem wars we are using Windows Phone as our weapon. But we are always thinking about what's coming next, what will be the role of HTML 5, Android... HTML5 could make the platform itself—being Android, Windows Phone or any other—irrelevant in the future, but it's still too soon [to tell]. Today we are committed and satisfied with Microsoft, but
anything is possible
.
There is no doubt that a combination of Nokia's PureView cameras with Android will be a dream come true for many customers, but such a project will probably be tied up by Microsoft in so much litigation, that we just don't see it before any WP contracts with Nokia expire. Rather Elop's point was that the future developments of the HTML5 standard might make today's proprietary platforms less relevant, and in that sense take the place Android has now.