No new Microsoft CEO until 2014 says company board member
7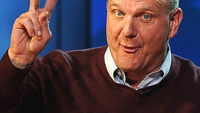 According to the Microsoft director given the task of finding the company's next CEO, don't expect one to be named until next year. John W. Thompson was quoted on a blog as saying that whoever replaces retiring CEO Steve Ballmer, that person won't be selected until the early part of 2014. Thompson says that more than 100 potential candidates had been identified by the board and the search has since narrowed.
Some of the names mentioned include
Ford Motor's highly regarded CEO Alan Mulally, and Microsoft's own Satya Nadella
, from the Cloud and Enterprise group. An early favorite for the position was Nokia's Stephen Elop. Coming back to Redmond after being the top executive at Nokia, Elop will be heading the Devices and Services division at Microsoft after the latter completes its purchase of Nokia.. But the latest speculation out of Microsoft's campus is that Elop is no longer in the running for the position.
After spending 13 years running Microsoft, Steve Ballmer might be turning in his key to the men's room for a coach's whistle as there is talk he might coach his son's high school basketball team. While he will be missed, there are those who would like to see a replacement named quickly. Daniel Ives, an analyst with FBR Capital Markets & Co., says that investors would like to see the new CEO named. But that is not unusual considering that uncertainty is one thing that investors hate. As for the analyst, Ives says that Microsoft is "wise" not to rush to name a successor to Ballmer.
source:
WSJ