New television ads for RIM's flagship BlackBerry Bold 9900
6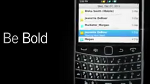 The BlackBerry Bold 9900
is the current flagship model for RIM and it brings the manufacturer closer to iOS and Android while not quite filling the gap. Unlike the original BlackBerry Bold 9000, this model features a touchscreen, faster processor and a much improved browser that actually will even let you
pinch to zoom
. The fabulous physical QWERTY from the original Bold 9000 is made even better, if you can believe it, by making the keys wider.
Of course, what good is a flagship model if you are not going to promote it? RIM has taken two ads that it used for different models and re-worked them for the Bold 9900. The first spot with DJ Diplo was originally used for the
BlackBerry Torch
and the other spot with the Night Bikes appeared for the
BlackBerry Curve 9350/60/70
. One major change is the tag line which is "Be Bold".
Will RIM be bold enough to
fix the problems that made 2011 such a terrible year
for the company? The problem is that as good as the BlackBerry Bold 9900 is, the phone is missing some features that Android and iOS users take for granted like a
dual-core processor
,
front-facing camera
and a
well stocked online app store
. The BlackBerry Bold 9900 would have been a huge hit about 18 months ago which bring us to the point that RIM remains a step and a half behind its competition.
Of course, all of this might change once
RIM introduces the delayed BlackBerry 10
line of phones. This could be the Canadian manufacturer's last shot at closing the gap with iOS and Android in one quick move. Still, things got off to a poor start when RIM was sued for calling its new OS BBX which another company claims it was using. RIM
changed the name of the new OS to BlackBerry 10
. But before the ink was dry on that memo, RIM was sued by BBM Canada
for using the BBM abbreviation for BlackBerry Messenger
.
Can RIM ever catch a break? All we can do for now is watch these spots for the BlackBerry Bold 9900 with one eye firmly focused on the future.
source:
BlackBerryOS