New ad for HTC Rezound features Machine Gun Kelly, Beats Audio and those red earbuds
24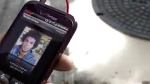 The HTC Rezound
is expected
to launch from Verizon on November 14th for $299.99
with a signed 2-year pact. The device is a Beats Audio branded model which means it includes those fancy red earbuds, a Beats Audio sound profile and a nice logo design on the back of the phone. With Friday's launch of the sexy, sleek
Motorola DROID RAZR
and the upcoming launch of the Android 4.0 powered
Samsung GALAXY Nexus
, Verizon decided to run an ad focusing on the Beats Audio features of the phone in order to differentiate the model and give it some exposure, which seems hard when you are going up against two heavyweights like the DROID RAZR and the GALAXY Nexus..
You can click on the video below to check out the ad, which shows a typical wannabe playa listening to Machine Gun Kelly as he walks through the streets of the metropolis, oblivious to the slow-motion activity
Inception
-style going on around him including flying manholes, and a truck flipping over. Of course, what this all has to do with the actual performance of the phone, who knows. Does the ad let you know that this will probably be the first smartphone in the U.S.
to be launched with a 720p display?
No, it doesn't. Yet, the ad does serve its purpose somewhat as by the time the spot is over, you certainly realize that you won't forget the HTC Rezound name and the fact that it is a Beats Audio device.
source:
YouTube
via
Phandroid