New Nexus 10 may launch tomorrow, Cyber Monday
21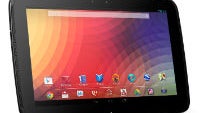 We have been looking forward to the announcement of a new Nexus 10 for quite a while now. For those of you who have been following the news closely, you'll remember that the Nexus 10 went
out of stock
back in October and hasn't come back since. Now, a new rumor is claiming that the new Nexus 10 tablet will be released tomorrow, Cyber Monday.
Unfortunately, there is nothing concrete about this rumor, and it still leaves a couple big questions hanging over the new tablet, like what the specs may be. The biggest question is of course what hardware manufacturer will be Google's partner on this one. Earlier this year, Google's Sundar Pichai supposedly
mentioned Samsung
as the hardware partner. Then there were
numerous
rumors
that
pointed
to
Asus
as the hardware partner. Most recently, we've seen a claim that LG would be making the tablet.
The theory behind the Cyber Monday release of the new Nexus 10 is that Google's hardware partner might be having trouble building up stock of the new tablet, and wanted to avoid the buying rush that it would have to face on Thanksgiving and Black Friday. If this rumor is true, we should be getting quite a bit more info tomorrow.