16GB Google Nexus 10 now "out of inventory" on Google Play
23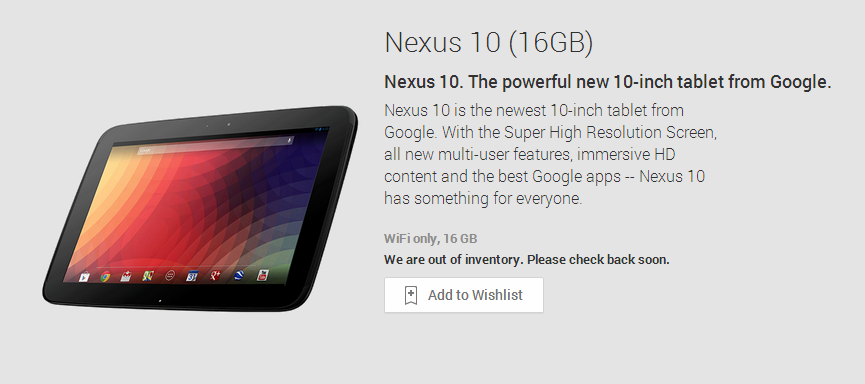 When it comes to Nexus devices, the majority of the buzz is always around the Nexus smartphones and the Nexus 7, and the Nexus 10 tends to get lost in the shuffle. Last night, we saw the first
leaked press image
of what appears to be the Nexus 10 (2013); and today we noticed that the 16GB Google Nexus 10 is now being listed as "out of inventory" on Google Play, although the 32GB model is still available.
We have to admit that we don't know exactly when this happened. We haven't seen any reports about this, so it seems like a recent event. But, it is widely expected that Google will announce a new Nexus 10 along with the Nexus 5 sometime very soon (possibly within the next week). There hasn't been a lot of info around the new Nexus 10, but it is said to be made by Asus rather than Samsung. Samsung made last year's Nexus 10, and Asus has been responsible for both last year's and this year's Nexus 7 tablets.
The rumors have said that the new Nexus 10 will retain the same 2560 x 1600 10.1-inch display, but the internals are still a mystery though some have said it would be a Tegra 4, and some say it will be powered by a Snapdragon 800. Additionally, if the press render is to be believed, it looks as though Google is pushing for the device to be used more in portrait mode rather than Android's traditional landscape mode for larger tablets. Not only is the press render oriented for portrait, but it shows the front camera placed on a short edge, rather than the longer edge of the tablet.