New report says an Asus Nexus 10 may come this year
11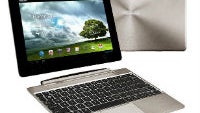 The last report we heard about the new Nexus 10 refresh due this year, it was just after Google had announced the new Nexus 7 and Android 4.3. A
Wall Street Journal
reporter had tweeted that Google's head of Android and Chrome,
Sundar Pichai himself
had said that a new Nexus 10 was on the way; and, it would again be made by Samsung, just like the original Nexus 10. That's why we're a bit skeptical about this new report claiming that Asus will make the new Nexus 10.
The report comes from Geek.com's Russell Holly, who says that "multiple sources" have reported to him that Asus will be making the new Nexus 10. He also reports that the tablet will be sold through the Google Play Store and Best Buy outlets
in time for the holidays
. That last bit isn't so hard to believe, because that has been standard procedure for Nexus tablets. But, we do have trouble believing the Asus part of the rumor.
Don't get us wrong. Given the quality tablets that Asus has put out with both the 1st and 2nd gen Nexus 7, and the Transformer Pad devices, we'd enjoy seeing what Asus makes for a Nexus 10, but it seems more reasonable to believe the info that comes straight from Google's top Android guy rather than unnamed sources. Although Holly has been a good source of info before, having broken the Google Edition device story.
Of course, if the rumors are true that Android 5.0 will be coming this holiday season, and that the update will bring better Android
optimization for laptops
, an Asus Transformer Nexus would be a perfect device to show off that new functionality. And, we don't see a reason why Google couldn't release two new Nexus 10 tablets: one by Samsung, and one with a keyboard dock from Asus. That's an idea we could definitely get behind.