Google Nexus 10 tablet of Asus make on the way, might be based on the 300ppi Infinity
23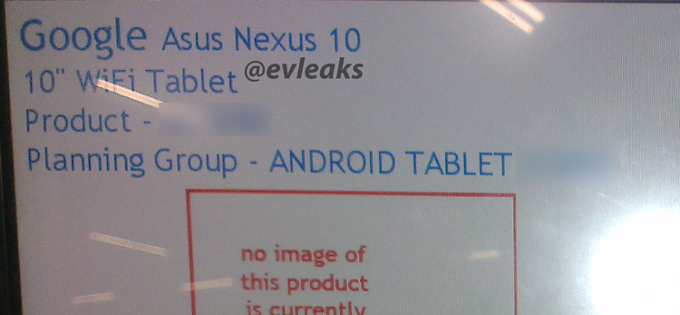 Google will have a full mobile portfolio this year again, it seems, as a new
Nexus 10
tablet mention, this time made by Asus, made the rounds at the perennial insider @evleaks, with the enigmatic hint "Getting closer...".
This way Google will secure the gamut of its own Android devices, with the
Nexus 7 (2013)
slate, already out, the
Nexus 5
handset fast approaching, and now the last piece of the puzzle shown in preparation.
The
Google Nexus 10 already leaked out once in an UK electronics retailer
inventory with a price tag of £349, which for the US will likely translate to $399, or the original Nexus 10 pricing. Asus also makes Google's 7" Nexus tablet, and this year surprised us very pleasantly with a Full HD screen resolution at a rock bottom price, so we can only imagine what it would do with the 10-incher, but which of its products it might be based on?
Actually, the chance is great that the new Nexus 10 will be based off the
Transformer Pad Infinity TF701T
, which boasts a brilliant 2560x1600 pixels display making it only the third 300ppi Android 10-incher, and its frugal
IGZO
technology will allow up to 13 hours of battery life on a charge, claims Asus. The slate is powered by a beefy quad-core
Tegra 4
chipset, has 2 GB of RAM, 32 GB of storage from the get-go, cameras with zero shutter lag and HDR abilities. Last but not least, it flaunts 263 x 180.8 x 8.9mm dimensions and just 585g of weight, despite the metallic chassis, though we don't know if the exact same design will be kept by Google.
An Asus rep told us at the IFA expo last month that it is arriving for $400 without the USB 3.0 keyboard dock, which will run you a Benjamin more, so there's every chance the Nexus 10 specs and pricing might coincide with those of the new Transformer Pad Infinity. Check out our hands-on of what an educated guess tells us might end up labeled Google Nexus 10 (2013) below.