New Cricket Wireless to be launched at the end of this quarter by AT&T
9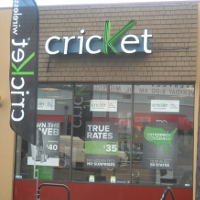 Some time before the current quarter ends, AT&T will launch an "upgraded" Cricket Wireless with 3000 distribution points across the country. AT&T CFO John Stephens said that the new Cricket will offer simple pre-paid plans and affordable devices, all while having a nation-wide presence. The nation's second largest carrier acquired Cricket in the transaction that saw
AT&T buy Leap Wireless for $1.2 billion
. At the time it announced the deal, AT&T said that it would replace its Aio Wireless pre-paid brand with the Cricket name once the deal closed.
AT&T closed on the deal last month
. Besides
converting Aio to the Cricket brand
, the carrier wants to use the PCS and AWS spectrum it received from Leap in the acquisition, to good use immediately. That will not require much in the way of capital expenditures, said Stephens. AT&T will need to spend money next year, said the CFO, when it shuts down Leap's CDMA network and gets Cricket customers to migrate to AT&T's GSM powered pipeline. That could take 18 months, according to Stephens.
Stephens said that the Cricket acquisition gives AT&T access to a side of the business that it didn't focus on in the past. He sees the migration for Cricket customers as coming off easier than others might think. With 70% of new Cricket customers opting for smartphones, it shouldn't be difficult to get them to become AT&T smartphone customers. In fact AT&T plans on giving Cricket customers the smartphones that its AT&T Next customers trade-in to upgrade to a new phone.
AT&T's combined Aio-Cricket Wireless pre-paid carrier will now compete with names like Virgin Mobile, Boost Mobile and T-Mobile's MetroPCS. Considering that AT&T is T-Mobile CEO John Legere's favorite whipping boy, it is no surprise that the executive sent out a tweet in reference to AT&T's launch of the new Cricket brand. "
Omg No...impaired brand and fat slow owner..they will only hurt themselves,
" tweeted Legere.
source:
FierceWireless