NBA All-Star Kevin Durant says he will take your wireless bill to court in new Sprint ad
6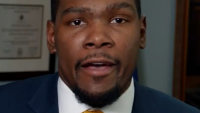 Remember those
two teaser Sprint ads we showed you on Friday
starring NBA star Kevin Durant as an attorney? The full ad was played at halftime of today's NBA All-Star game and it is a riot. With background music from
The People's Court
, we see an advertisement that is in the style of one of those sleazy lawyers who try to get clients from sketchy car accidents.
"
Have you been fouled by your wireless carrier?
" asks a very serious voice over announcer, "
Kevin Durant esquire will cut your rate plan in half
." That is obviously a reference to
Sprint's Cut Your Bill in Half plan
. The voice over announcer adds, "
Bring in your Verizon or AT&T wireless bill and your old phone and we'll lay down the law
."
As we've pointed out, since you are forced to forfeit your old phone and buy or lease new Sprint handsets,
your actual savings are closer to 20%
. By the way, as the announcer says at the end of the ad,
"Kevin Durant is a baller, not a lawyer
."
source:
Sprint