New Sprint ad starring hoopster Kevin Durant to debut at halftime of NBA All-Star game
2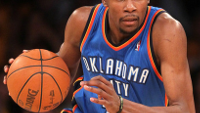 It's the NBA All-Star weekend in New York City and Sprint will debut a new 60-second commercial at halftime of Sunday's game. The spot features Oklahoma City Thunder forward Kevin Durant. The carrier says that the commercial features Durant in action on a different type of court. A couple of short teasers released by Sprint show Durant all suited up as a lawyer inside a non-hardwood court of law.
One teaser opens with the judge asking the defendant if KD is her lawyer, which is answered with an affirmative head shake by the defendant and a confident "
Yes I am
" from Durant. The second teaser opens with the sound of the courtroom cheering as Durant says that the defense rests. The judge bangs his gavel and demands quiet.
What this all has to do with Sprint and its wireless service is not exactly clear from the pair of teasers. Sometime around 9pm ET on Sunday we should know for sure, once the ad runs. The NBA All-Star game will be broadcast live Sunday starting at 7pm ET on TNT. This year, the game is being played at the world's most famous arena (after PhoneArena, of course!) Madison Square Garden.
source: Sprint