NASA uses Snapchat to show us a typical day at the International Space Station
1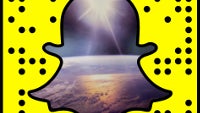 Today's social media may sometimes be used to stream dark and downright disturbing content,
such as a sexual assault
and a
suicide
, but it can, and should, be used to actually enrich our lives in a positive way. Acting as a window to various points in the world — and beyond — social media can educate us, motivate us, make us feel like a part of something greater, or just plain make us feel like humanity may actually still be moving forward.
For example, NASA is pretty cool about communicating with the public via contemporary social media. The Mars-trotting Curiosity Rover has its own Twitter account, the astronauts on the ISS often have YouTube videos of themselves doing Q&A sessions or
announcing Angry Birds Space
, and even your regular, everyday Android developers have been
invited to build apps
for NASA's
Android-powered
satellites
or smartwatches
.
Now, the Space Administration wants to celebrate the International Space Station's 100,000th orbit around our planet by streaming a Snapchat story showcasing an astronaut's typical day at the station. The clips are chock-full with interesting trivia, such as the fact that one can see 16 sunrises and sunsets per day from the ISS, some cool zero-gravity tricks, and an astronaut suit display.
To view the story, just open your Snapchat, scroll right for the Stories screen, and look for "Day in Space" under the Live tab on top. Additionally, you can add NASA as a friend (search, or just use the snapcode found on top of this article) to get regular stories from the space-exploring agency. Enjoy!
On @Snapchat? See today's Live Story about @Space_Station's 100,000th orbit & add NASA: https://t.co/lcDapCrSnSpic.twitter.com/ynvFJvw031

— NASA (@NASA) May 16, 2016
source:
NASA (Twitter)
via
Engadget