9,000 developers compete to create new NASA Space Apps
1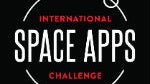 There are a lot of ways to go about creating apps. You can build things in-house with a team of developers all on contract, you can make it open source and try to attract developers organically, or you can have a contest like the International Space Apps Challenge by NASA. The combination of NASA and an app building competition is an amazing marriage, and one that attracted 9,000 developers in 44 countries to the task.
NASA is a very small part of the US Government. Its budget makes up just .5% of the federal budget, but that still adds up to a bit under $18 billion. Not a huge amount, considering the projects that NASA undertakes, so NASA looks to be efficient with its money. With that in mind, it has created the International Space Apps Challenge, which is now in its second year.
The 9,000 developers split into teams to build software and hardware to solve dozens of "challenges" that NASA posed. The challenges could be anything from building an app to help visualize phenomena that aren't visible to the human eye, to a game that sounds a bit like SimCity on the moon, where players work to build a lunar base. The competition received around 775 submissions, which NASA is now looking through to choose winners.
The five winners of the competition will be announced next month.