Sexual assault streamed on Periscope lands perpetrators in jail
33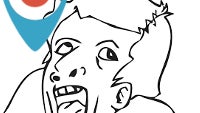 We live in an age where people are so attached to their mobile gadgets that they could
risk their lives
for them, and so obsessed with
oversharing
that carelessly shooting selfies or texting leads to injuries or
death
much more often than it should (that is – never). If there is a silver lining to be found in this, it's the fact that criminals are often dull and shortsighted enough to actually share an unlawful act that they have committed, often landing them straight in the hands of authorities.
Such is the case with 18 year-old Marina Lonina and 29 year-old Raymond Gates, who apparently had the genius plan of sexually assaulting a 17 year-old girl, friend of Lonina's. The incident took place in the city of Columbus on February 27th. The trio were "hanging out" drinking together and, at some point, Gates decided to push himself on the victim. While this was happening, his girlfriend Lonina thought it would be great to stream the ordeal on Periscope.
This is indeed terrible, but thankfully, a friend of the victim who stumbled on the stream called the authorities, and the duo were apprehended. Both Lonina and Gates are facing up to 40 years in prison for rape, kidnapping, sexual battery, and pandering sexually oriented matter involving a minor, since it turns out that Marina was streaming nude photos of the 17 year-old victim the night prior to the incident.
Lonina's attourney Josh Bedtelyon says she "categorically denies" the charges. Gates is due for arraignment tomorrow and it is yet unknown how he will plea. Can we get a "The smartphone was hacked"?
source:
KXAN
via
Engadget