NASA sends another cheap Android-powered satellite in space, makes it dial home
5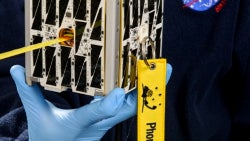 Remember the
PhoneSat project
that NASA started in April to prove that commercial electronics can be sent into space, making satellites much cheaper than they are now? Not only did it result in
these beautiful space shots
, but the proof of concept is getting a second mission now.
NASA shot up another mini-satellite now, powered by a Samsung-made
Google Nexus S
, and dubbed PhoneSat 2.4. The tiny Android-powered cube weighs just 2.2 pounds, and is this time equipped with a two-way S-band radio, enabling amateur radio at a frequency of 437.425MHz to communicate with the contraption.
PhoneSat 2.4 is planned to spend a year in space, and if NASA manages to prove that tiny satellites like this one, which cost $7500 to make with off-the-shelf consumer electronics, can do a job similar to custom ones that go for millions, its
budget will be cut
ingenuity will open the door to a whole lot of possibilities within the existing reduced budget. Check out the launch video below.