N.O.V.A. 3 for Android Review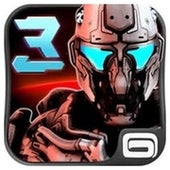 Remember how flashy those PlayStation 2 games looked when the console was released? Back in those days, playing games of such complexity on a device that fits in your jeans' pocket was nothing short of unimaginable. Yet smartphone console-quality games are already here, and today, we are taking a closer look at one such title. N.O.V.A. 3 is the third installment in Gameloft's series of futuristic first-person shooters. We have it installed on our
Samsung Galaxy S III
, but it is available on iOS as well. The game costs $7 on both platforms, but does it pack enough action to justify that price tag? Let's find out!
The good
N.O.V.A. 3 has to be one of the best looking titles currently available for Android!
The game is just full of eye candy – from the depth of field blur in cutscenes and the dynamic lighting effects, to the realistic reflections from shiny surfaces and the jets of hot air caused by your shotgun's hot barrel. Add to all that the support for 720p displays and you have a title that can serve as a benchmark as to what your device and its hardware are really capable of.
The game follows a story, which isn't too bad for a video game, and the voice acting is pretty good as well. We paid more attention, however, to obliterating the bad guys and taking down enemies.
We cannot complain about the game's difficulty
– it is neither too easy, nor too hard, and it gets more challenging as you progress.
You get to ride various vehicles and a mech throughout the game, which we find pretty cool. But most of the time, you will be on foot, carrying your arsenal of firearms. Speaking of firearms,
there is a good variety of weapons too
. You start with some basic ones like the shotgun the handgun, but later on you get access to some pretty neat fiery toys.
Oh, and did we mention that
N.O.V.A. 3 can be played online
? Yes, battles with up to 12 simultaneous players across 6 different multiplayer modes are available, so once you have had enough playing the campaign, the fun continues at full pace on the web.
The bad
Okay, we did not experience too many glitches while playing N.O.V.A. 3, but there were some that we didn't quite like. On one instance, a bad guy was shooting at us literally through a wall, with his gun magically sticking right through it. The rest were just minor bugs like funky-looking textures and such that didn't spoil the fun in any way.
We had a bit of a hard time getting used to the controls.
It took a while for our thumbs to become familiar with the arrangement of all the buttons, and believe us when we say that there are a lot of them. A little more customization options when it comes to positioning of the controls would have been nice.
Conclusion
N.O.V.A. 3 is a fun game to play, and if you are a hardcore gamer, we would definitely recommend giving it a shot. It has awesome graphics, engaging gameplay, and a really fun multiplayer mode that you are likely to waste a lot of time on. Just make sure you have a device with a big display as otherwise, dealing with the on-screen controls will likely be frustrating.