Motorola DROID 4 cases ready to go out the door sans the phone
7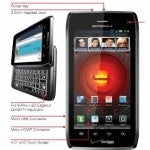 What good is a case for a phone that hasn't been announced yet? Well, you could try to fool everyone around you by putting it to your ear and faking a conversation. "Yeah, Mom. She walked out on me again," you could say, and that would probably attract some attention. Or, you could give it to someone as a belated holiday gift and let him/her figure out how to buy the phone. But perhaps the best use of the case is as a tool that tells us that the next model in the distinguished DROID series is close to getting launched. And that is the situation with the
Motorola DROID 4
as a couple of photographs show that cases for the handset are already being shipped out to some retailers.
With the
previous leaks on the DROIDDOES web site
, it seems like a slam dunk to expect the Motorola DROID 4 to make an appearance at the CES. After all, Motorola doesn't have much else to display in the way of smartphones unless something comes out of left field. At the same time, another clue to the imminent release of the Motorola DROID 4 is the rising speculation that
Verizon is calling time of death
for the
Motorola DROID 3
. Considering that this is the series that made Android a household name, we're sure that Verizon wouldn't EOL the DROID 3 without a replacement ready to go.
source:
DroidLife