Verizon putting the kibosh on the DROID 3, LG Revolution and the current Mi-Fi Hotspots crop
14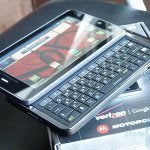 Just before the impending CES 2012 expo in Vegas, Verizon is said to discontinue several handsets and its 4G Mi-Fi hotspots. The most notable device about to be EOL-ed with its last shipments in January, is rumored to be the
Motorola DROID 3
, after barely six months on the market. It was a pretty good choice of a world phone with a physical keyboard, so it will be sad to see it go, but hopefully
its heir
will be announced at CES, with Android ICS and all.
The other handset about to be axed is the
LG Revolution
, after seven months of shelf life - this one will stay in history as part of Verizon's first 4G LTE crop. The other two in the End-of-Life rumor mill are hardly a surprise - the
Palm Pre 2
, and the
BlackBerry Curve 3G
.
What is more, Verizon's 4G MiFi hotspots are allegedly
singing their swan song as well
- new boxes with the Samsung 4G LTE Hotspot and ZTE Fivespot won't be appearing in the warehouses, while the
Novatel LTE Jetpack
is to see its last stock shipment this month.
This rumor points to a solid new crop of Verizon devices about to be announced at the largest consumer electronics show this month, and we'll be there to relay all the excitement.