Motorola DROID 4 makes appearance again on DROIDDOES web site
37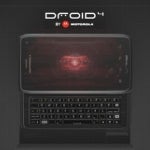 The latest model in the series that started Androidmania, the
Motorola DROID 4
, has been rumored to be launching on December 22nd which is this Thursday. This DROID will not only have LTE connectivity, but will also feature the slide out physical QWERTY keyboard that is a hallmark of Motorola DROID handsets.
2.3
.5 is installed. If the physical QWERTY is anything like the one on the Motorola DROID 3, it will be a pleasure for those who are heavy duty users of text messaging or email.
Based on Verizon's pricing of phones like the
Motorola DROID RAZR
and the
Motorola DROID BIONIC
, we would expect this handset to be priced at $299.99 with a signed two-year pact. And if you want to view the page for yourself, good luck as with the
previous image of the Motorola DROID 4 logo that showed up on the site
, it is like playing Russian Roulette and most of the time all that comes up on the site is a list of previous DROID models that have already hit the market.
source:
PocketNow