Motorola DROID 4 appears on Best Buy Mobile's Reward Zone website
6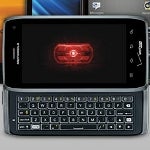 Earlier on Wednesday we told you about some
audio clips that appeared to be for the Motorola DROID 4 display
on the DROIDDOES web site. Of course, the phone is unannounced although speculation is
centered around a February 2nd launch
at Verizon. Still, the evidence seems to show that if Verizon wanted to, it could launch the phone today. While it doesn't necessarily confirm that the handset is ready for launch, a photo found on the
Reward Zone web site
for Best Buy Mobile shows the Motorola DROID 4 proudly displaying its 5 row QWERTY keyboard in landscape mode with a bevy of Android models behind it.
changes to the usual DROID form factor
. Think of this model as a Motorola DROID RAZR with a QWERTY keyboard which means that it should probably be thinner than its predecessor, the Motorola DROID 3. Also, it will be Motorola's first LTE enabled side slider, although we have seen the combination before for Verizon.
Since the Motorola DROID 4 is unannounced, quite obviously things like launch date and pricing is all a matter of guesswork, but there is no reason to expect anything other than a $299.99 contract price for the phone on its launch. Verizon has priced all of its dual-core, LTE enabled phones at that price while those models that top out at 3G connectivity like the Apple iPhone 4S and Motorola DROID 3 were launched at $199.99. Of course, the picture of the Motorola DROID 4 on Best Buy Mobile's Reward Zone web site could mean that the big box retailer will be
gracing its RZ members will some favorable pricing
on the device. And if you are not a member of the Zone, you still have plenty of time to sign up before the Motorola DROID 4 is launched.
source:
BestBuy
via
AndroidCentral