More 7 inch LCD tablet displays were produced last month than 9.7 inch screens
1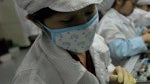 On Wednesday, producers of LCD screens for tablets claimed that last month saw
the production of 7 inch screens outnumber the production of 9.7 inch displays
. The 7 inch screens are the same size used in the very popular Amazon Kindle Fire and Barnes and Noble NOOK Tablet. The latter two are low priced Android models while the 9.7 inch screens are manufactured almost exclusively for the Apple iPad 2. Some research firms have reported that during the holiday shopping season, the
Amazon Kindle Fire, priced at $199.99, is outselling the Apple iPad 2
.
According to sources for
DigiTimes
, production of 7 inch screens
rose 17% from month to month
. While no official individual sales breakdowns are available, it is estimated that
as many as 6 million copies of the Amazon Kindle Fire will ship this year
while Barnes and Noble will deliver 1.5 million NOOK tablets in 2011.
DigiTimes
says that Apple had reduced its orders for 9.7 inch displays in November as it phases out production of the
Apple iPad 2
in preparation for the production of the
Apple iPad 3
. With the latter
expected to start rolling off the assembly line in March or April
, shipments of 9.7 inch displays should start turning higher again soon.
Not all 7 inch tablets have had spectacular sales. The
BlackBerry PlayBook
and the
Samsung Galaxy Tab
are two 7 inch tablets that have not exactly been in heavy demand. A lot of that has to do with pricing. With the Amazon Kindle Fire and the Barnes and Noble NOOK Tablet priced at $199.99 and $249.99 respectively, buyers are willing to give up some of the features available on higher priced Android tablets in exchange for a lower price. The PlayBook and the Galaxy Tab were originally priced in the same range as the 9.7 inch Apple iPad, but with a smaller screen and shorter battery life.
With the Amazon Kindle Fire, the tablet can be priced as low as it is because it comes
without many of the features
that one would expect to find with a higher priced Android tablet. Content, apps and cloud based storage can be purchased from Amazon. As a result, instead of taking a $10 hit on each Kindle Fire sold, the online retailer is
actually expected to score a $10 profit
for each tablet it sells.
source:
DigiTimes