Amazon to sell 6 million Kindle Fires by year-end
5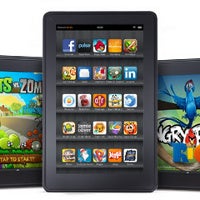 The Amazon Kindle Fire lowered the 7-inch tablet threshold to a very affordable $199 and it's a huge success. While we don't have any exact figures just yet, a Goldman Sachs report shared some estimates and they are through the roof -
6 million Kindle Fires
could be sold just by the end of the year.
Add to that expectations that Amazon would sell 8 million of the rest of its e-readers and you arrive at the impressive 14 million sold units for the last quarter of the year.
Additionally, Goldman estimates that Amazon will sell somewhere between 15.5 million and 20.5 million for a full year of the Fire's availability.
"While the Kindle Fire certainly doesn't have the breadth of functionality of theiPad (no camera or microphone, shorter battery life and less memory), it does a few things very well, which just happen to be the few actions that users utilize the tablet form factor most often for, in our view,"
the Goldman Sachs report said.
This would allow the Fire to capture 14% of the global tablet market, which would still be dominated by Apple with around 66%. But Amazon's tablet could be eating into Apple's and Android's sales. The closest runner up to the two is projected to be Samsung with a share of some 8%.