Mobile accessories, wearables, handsets, and more: a first-hand look at CE Week 2016 & ShowStoppers
1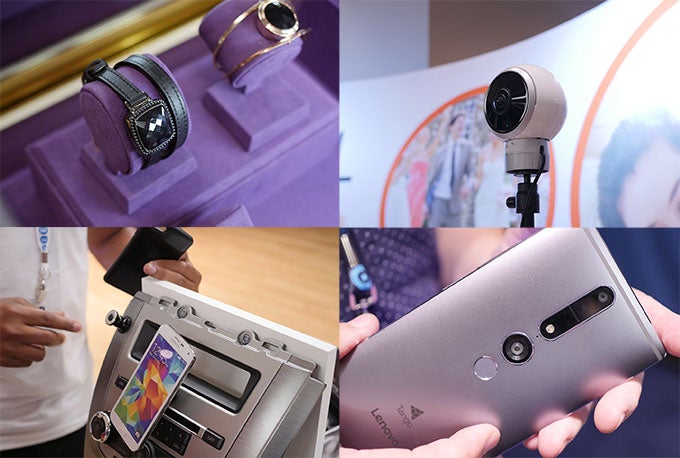 CES
and
MWC
are distant memories, and while the big mobile-tech-expo fun of IFA 2016 is just a couple more months away, these early days of summer aren't
quite
the wasteland you might think they are when it comes to learning about a whole lot of new devices, all at once. This week, New York City welcomed the latest iteration of CE Week, an annual gathering of hardware manufacturers, service providers, and pretty much everyone else who's got a hand in technology. We stopped by CE Week to check out the latest ShowStoppers event, where the companies behind the products we crave gathered to demonstrate some of their newest gear. The lineup included all manner of devices, from wearable and handsets, to more mobile accessories than you could count. Now we're bringing you a look at exactly what we got to see.
We've already told you about some of the products we ran into at CE Week, like the
Alexa Voice Services-powered Triby smart speaker
,
Photive's whole range
of Bluetooth speakers
, headphones, and earbuds, the
Swon smart shower meter
, the innovative
HandL phone case
, and
SanDisk's iXpand Memory Case
, which allows iPhone users to easily give their handsets a little extra storage capacity.
That's a lot of hardware right there, but we're only scratching the surface.
Beyond those devices we also got to check out wearables from Richline Jewelry and Oura. Richline was soft-launching a variety of fashion-first wearables, including a number of notification bracelets; these use multi-color LEDs and vibration alerts to clue you in to exactly who's trying to reach you. The company even managed to embed NFC tags in tiny pearl necklaces, which couples can use to send messages to each other.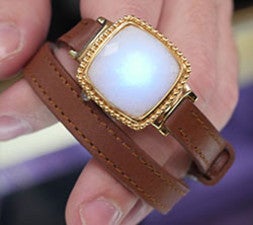 Richline's notification bracelet with glowing LED
Oura, meanwhile, was showing off its smart ring, a wearable that analyzes your behavior day and night to help reduce stress and improve your quality of sleep.
The Zus car charger isn't just for helping you keep your phone's battery topped-off during your commute (though it's more than happy to help with that), and it's big hook is its ability to help guide you back to where you parked. With the help of its Bluetooth connection and your phone's GPS radio, Zus can automatically store your car's location in your phone's memory whenever you park.
Speaking of cars, plenty of us love to keep our phone conveniently mounted on the dash for help with navigation, and Caseco was showing off its super-small, extra-strong magnetic car mounts. There's both an adhesive surface-mount version as well as one that connects to an available air vent, either of which then holds your phone in place with the help of a metal disk you stick to your phone's back. Coming soon are cases that have that disk integrated right in.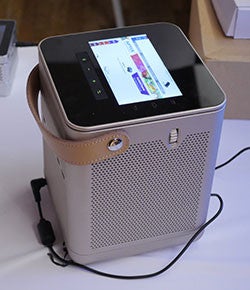 Aiptek's Android projector with detachable tablet
Maybe one day all phones will have snap on projectors like the Moto Z, but for now, Aiptek has a number of external and still incredibly portable models. We looked at two that feature either a Windows 10 or Android removable tablet that stacks on top of a projector/speaker base. That way, you can share your documents or a movie with a whole room, while taking the tablet bit with you on the go.
We've looked at
plenty of portable 360-degree spherical cameras
, but the ALLie camera does things a little differently, requiring a wall outlet for power. That restriction aside, it looks plenty powerful, with a Snapdragon 800 processor within, infrared capabilities, cloud connectivity, and support for live streaming to YouTube.
But like we said: this isn't all wearables and accessories. Hardware manufacturers showed up with some of their latest laptops, 2-in-1s, tablets, and yes: even smartphones.
Lenovo gave us a demonstration of its
recently launched Phab 2 Pro
, the first commercial device powered by
Google's Tango technology
. The handset uses its powerful array of sensor to scan the area around it, construct a 3D representation of that space, and understand its position within; armed with that data, Tango opens that door for some impressive augmented reality apps.
Demos included some virtual redecorating software, using the Phab 2 Pro to preview what new floors, furniture, or appliances might look like in an existing space, as well as quite a few games. Lenovo's hoping to see 30-some apps ready to take advantage of the phablet's Tango tech by the time the handset hits retail this September.
Check out a gallery of all this tech below, and stick with us as we continue to share the rest of what CE Week had to offer.