HandL wants to help you get a grip on your all-too-droppable smartphone
9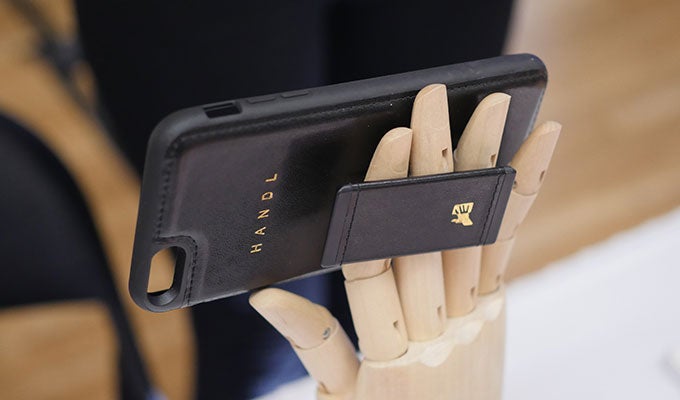 It's easy to have an
idea
for a new product; how many times have you thought, "man, using my smartphone would be so much better if only I had something that did
X
?" Few of us actually see these ideas through to reality, but artist Allen Hirsch not only had a vision for a way to improve the way we hold our smartphones, but kept playing with that idea, imagining how it might come together, until he actually came up with a finished product. Yesterday at
CE Week's ShowStoppers event
, we got to check out Hirsch's creation first-hand, as he introduced us to his HandL phone case.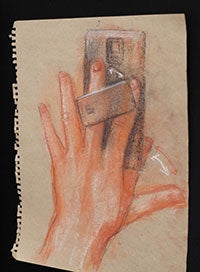 HandL concept art
Hirsch was looking a way to give smartphone users a secure, comfortable grip on their phone while freeing them to perform other tasks. After several prototypes he came upon his final design: a case that features an elastic strap connected to a stiff bar. Place your fingers between your phone and that bar, and you can hold onto your phone without keeping a death grip on the handset's body.
The design's simple enough, but not without its elegance, and extra features help add to its appeal: for instance, you can place the end of that bar into the slot from which the elastic strap protrudes, becoming a makeshift stand (though for portrait orientation only) in the process.
Hirsch designed the HandL for his Galaxy Note smartphone, and that's reflected in the case's availability: while HandL is going after the big iOS market with models for the iPhone 6, 6s, and their Plus versions, the only Android edition is for the Note 3 and Note 4. Normally HandL cases sell for just about $50, but select models are available through the company's store on sale for just $25.
Going forward, Hirsch is working on a caseless HandL that attaches to the back of your phone through some suspender-like straps, which would both allow you to continue showing off your handset's natural good looks, and also help improve device compatibility.
source:
HandL