Get ready for your phone to yell at you when you're taking too long in the shower
13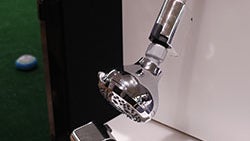 Earlier this week we took a look at some of the
smart devices you can pick up that are designed to live in your bathroom
, making everything from grooming to keeping in shape a little bit easier. And while that look extended into showerheads, all we could find at the time were models that incorporated Bluetooth speakers. A little music while you're singing in the shower is just fine, but at ShowStoppers at CE Week last night we got to meet a smart-shower gadget that's got a bit more noble of a goal, helping to let users keep an eye on their water usage.
The Swon isn't a showerhead itself, but fits between your existing showerhead and its piping – that ability to simply screw into place is designed to appeal to renters (a group often overlooked by smart-home gear) as well as home owners. Once attached, it keeps track of how much water you're using, as well as temperature, and relays that data to other connected devices (like a
smart-home hub
or your phone) over Wi-Fi.
Beyond saving the environment, Swon is interested in saving you money, so it only makes sense that the hardware itself is affordable; an Indiegogo campaign is coming soon, where you'll be able to pick the Swon up for just about $30. It's powered by a removable battery, which will offer about a year of operation before it needs to be replaced.
Will a little feedback drive you to take shorter showers, or maybe turn the temperature down a tad? Maybe we could all use a bit of smart-device-shaming to start making our showers less wasteful.
source:
Swon
(Facebook)