Microsoft revamps the Windows 8 interface with touch in mind, borrows heavily from WP7
23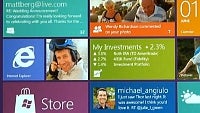 Microsoft previewed the next version of its operating system,
codenamed Windows 8
for now, both at the D9 conference, and at
the Computex 2011 expo
in Taiwan, as promised.
We were more interested in the
tablet user interface of Windows 8
, but it turned out that there really won't be much distinction, because the new Live tile-based interface in the Metro UI style of Windows Phone 7 will seemingly be as standard for server PCs, as for the smallest slate.
Presumably you would be able to toggle this finger-friendly interface for the sake of compatibility with programs made for Windows 7. In other words, legacy apps, like Photoshop, will just be launching with their mouse-friendly menus, as exemplified by Microsoft's Steven Sinofsky firing up Outlook, which came on as you know it. Here's Microsoft's list of new features in the interface:
• Fast launching of apps from a tile-based Start screen, which replaces the Windows Start menu with a customizable, scalable full-screen view of apps.
• Live tiles with notifications, showing always up-to-date information from your apps.
• Fluid, natural switching between running apps.
• Convenient ability to snap and resize an app to the side of the screen, so you can really multitask using the capabilities of Windows.
• Web-connected and Web-powered apps built using HTML5 and JavaScript that have access to the full power of the PC.
• Fully touch-optimized browsing, with all the power of hardware-accelerated Internet Explorer 10.
Notice how Microsoft directly talks about apps, not programs, and HTML5 ones that you run directly in the browser? Sign of the times. Speaking of compatibility, you'll be able to run each and every program made for Windows despite the dazzling interface, but
only on x86-based chipsets, like Intel
or AMD. On ARM-based processors, Windows 8 will most likely only include support for apps that are made for it from the ground-up, since
emulating would be a hurdle
. ARM-based devices, including a notebook running
NVIDIA's quad-core Kal-El chipset
, were demonstrated running Win 8. Deeper details about the OS should be disclosed mid-September, at the BUILD conference.
With that out of the way, Windows 8 will be the biggest revamp since Win 95: "
The user interface and new apps will work with or without a keyboard and mouse on a broad range of screen sizes and pixel densities, from small slates to laptops, desktops, all-in-ones, and even classroom-sized displays.
", says Microsoft. With that said, Redmond is
placing restrictions on the type of hardware
to run the new operating system. Since touch will be deeply integrated now, not a layer, there are some requirements towards touchscreens - at minimum they should have 1024x768 pixels of resolution, with the best starting point being 1366x768.
Redmond also noted the instant-on feature, which hibernates the operating system immediately and then seamlessly fires it back up, just as we would expect on a tablet. Cold boot should take about six seconds with SSD. Upon installing, Windows 8 recognizes the underlying hardware, and scale accordingly, including that Live tile-based, adjustable interface. Have a look at what's in store with Windows 8 in the video below.
source: Microsoft (
interface
&
hardware
)