Windows 8 on ARM chipsets might not support legacy programs, says Intel chief
2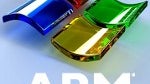 Speaking yesterday at an investors' conference in Santa Clara, Renée James from Intel stirred the IT community quite a bit, suggesting that the
ARM-based version of Windows 8 won't support legacy applications
.
Windows 8 written for the good old x86 processor family of Intel, on the other hand, will feature a "Windows 7 mode" as well, and fully support the vast array of programs written for Windows. If true, that is quite the shocker for most consumers who expect a tablet with the ease of operation and
slick interface
of today's mobile operating systems, coupled with full legacy software and driver support, running for hours on end with the power-sipping ARM chipsets.
As they say on Wall Street - if the offer is too good to be true, it probably isn't. In that case Intel will have a big advantage with Windows 8, especially with corporate customers, who need legacy support. It still remains to be seen to what extent the ARM-based and x86 versions of Windows 8 will be interoperable, though, we are sure the engineers at Redmond have thought long and hard about the benefits of each approach, so we'd wait for the word from Microsoft on that matter.
source:
BusinessInsider