NVIDIA demos quad-core Kal-El for tablets on video
6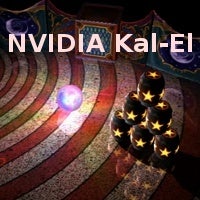 So you've bought a dual-core tablet and you think you have the latest of cutting-
edge
silicon on your slate? You certainly do, but if you're the type of geek caring about state-of-the-art hardware, you'd already be thinking about the mind-blowing graphics coming with NVIDIA's upcoming quad-core chip Kal-El after watching the video demo below. It showcases graphics from the future with
dynamic lighting
, plenty of realistic physics and buttery smooth gaming, only possible on mobile devices due to the united efforts of four separate processing cores. While gaming will be one of the main beneficiaries of the
12 GPU cores
in NVIDIA's upcoming chip, the speed boost will be noticeable all around as the NVIDIA
Kal-El outscored the Core 2 Duo
in terms of processing power.
The
Glowball game
below runs on a Honeycomb tablet with a resolution of 1280 x 800 pixels. But it's not just the pretty picture that is rendered - you can adjust the light source and even change it which instantly reflects on the surroundings. All of the objects around you respond naturally, so even the slightest touch of the glowing ball to the drapes causes a realistically beautiful reaction. Just as you would expect, game controls are fully accelerometer-optimized.
- Support for
"Extreme HD" videos
with resolution of 2560 x 1600 pixels,
-
Five times
faster performance than
Tegra 2
.
The system-on-a-chip was first leaked in February, but its promised
release this fall
seemed hard to believe. NVIDIA's aggressive timing however gets the company results as most of today's dual-core smartphones run on its Tegra 2 chip. If it pushes the chips so first quad-core
tablets arrive this August
and smartphones around Christmas, the path to success of the new SoC by NVIDIA seems paved. Oh, and that
Hollywood Amazon tablet
in the works might just be the first one to ride the quad-core waves.