Microsoft Lumia 1030 a.k.a "McLaren" said to boast a 50MP rear camera, 4th-gen short-pulse LED flash
56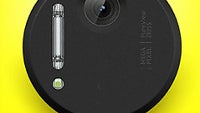 As Microsoft is
reportedly prepping a successor
to the one of the more popular Nokia Lumia devices up to date, the Lumia 1020, which is universally praised as one of the more potent cameraphones out there. Codenamed "McLaren", the device in question could end up being called the
Microsoft Lumia 1030
.
While the Kinect-like gesture input-technology that the McLaren was rumored to sport
has been reportedly put on hold
, the device is still said to don some quite intriguing features and pieces of hardware.
As the Lumia 1020 is popular for the capabilities of its 41MP PureView camera, it comes to no surprise that the recent round of rumors regarding its successor comprise a rear-positioned camera sensor with a respectable, two-digit megapixel count. If the rumor mill is to be believed, the Lumia 1030 (or whatever Microsoft decides to name it) will boast a 50MP camera, most probably of the PureView type. Apart from raising the ante in the megapixel count, the Lumia 1030 is also said to come with a physically-larger camera sensor, which is always welcome. In addition, the flash of the device is said to be not a xenon, but a 4th-gen short-pulse LED one.
When it comes to photography, there's a wise saying which claims that "megapixels are not everything". While this is generally true, the Lumia 1030 will have to have some additional aces up its sleeve so as to successfully stand up to the best-performing smartphones in the imaging department right now. The answers to all of our questions regarding the Lumia 1030 might get unveiled at the upcoming MWC 2015.
In the meantime, we already got treated to some photos depicting
a prototype Lumia device
. Could this be the McLaren in question, the long-awaited successor of the Lumia 1020?
source:
WMPowerUser